Buttery, moist vanilla pound cake. Perfect on its own, with ice cream or whipped cream, or used in trifles. This classic pound cake recipe is perfect for any occasion.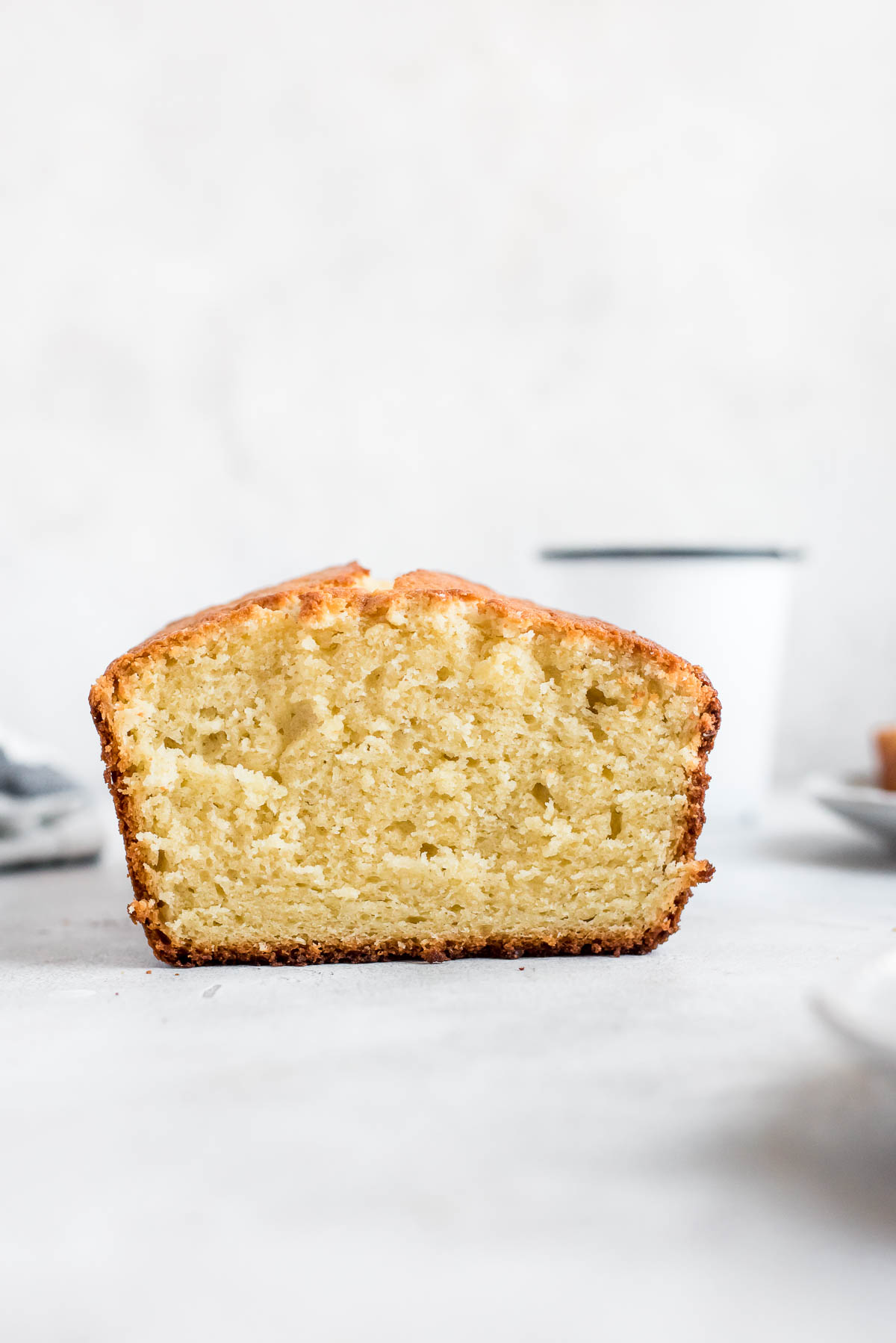 There is nothing like settling down to a slice of vanilla pound cake. Traditional pound cake is called such because it uses a pound of each of the ingredients. However, it tends to be very dense, dry, and surprisingly lacking in flavor. 
I wanted to make something a little more tender, fluffy, and flavorful. So we add sour cream – or nonfat Greek yogurt – to add tang, tenderness, and moisture into the cake. The result is a pound cake you will absolutely love eating and sharing! 
Ingredients
What I love about this pound cake recipe is that it is still relatively low on ingredients.
Butter – Use unsalted butter so you can control how much salt is in your cake. It should be at room temperature to better incorporate the other ingredients.
Sugar – Use granulated sugar to give a neutral sweetness that does not add any of its own flavor. You cannot substitute this with alternatives with this particular recipe. 
Eggs – Use large eggs, and leave them at room temperature so they do not chill the butter when added, which will give you a curdled looking batter. 
Vanilla – I recommend using pure vanilla extract and not the imitation extract. If you want to experiment with flavors, you can add a few drops of almond extract, or use lemon extract! 
Yogurt – I use nonfat Greek yogurt, but you can also use sour cream. This will add tanginess and tenderness to the cake. 
Flour – The recipe uses all-purpose flour, but for a very tender pound cake, you can also use cake flour. 
Baking powder – Most traditional pound cake recipes use the aeration you get from whipping your ingredients, but I wanted a truly fluffy pound cake so we use a little baking powder to help out! 
How to make
This cake is made much like most pound cake recipes. 
We start by beating the butter and sugar together on high. Whipping these two ingredients together creates air pockets within the butter that will help create rise within the loaf. 
The same goes for when we incorporate the eggs, which is why we add them one by one and make sure we beat the ingredients well before we add another egg. 
I recommend adding in the yogurt slowly. It can deflate the air in the cake, so adding the yogurt should be done carefully to prevent that loss of air as much as possible. 
Fold in the flour. baking soda and salt. I recommend stirring them in by hand. 
When baking the cake, you want to keep baking until a toothpick comes out clean when inserted in the middle. If you find the top of the pound cake browns too quickly, cover it with aluminum foil. 
How to serve
This butter, soft cake is great served with just about anything. My favorite ways to enjoy it is topped with powdered sugar or a nice glaze. You can also serve it with whipped cream or ice cream garnished with fruit or sprinkles. Jams and marmalades also make a delicious spread on your pound cake. If you want to be decadent, chocolate, peanut butter, and caramel all make great additions. 
Besides eating your cake as-is, you may also want to consider toasting it. I've also turned my cake into French toast before and it was amazing! You can also slice your cake for trifles, parfaits, or even to put into ice cream! 
The limit of what you can do it really up to your imagination!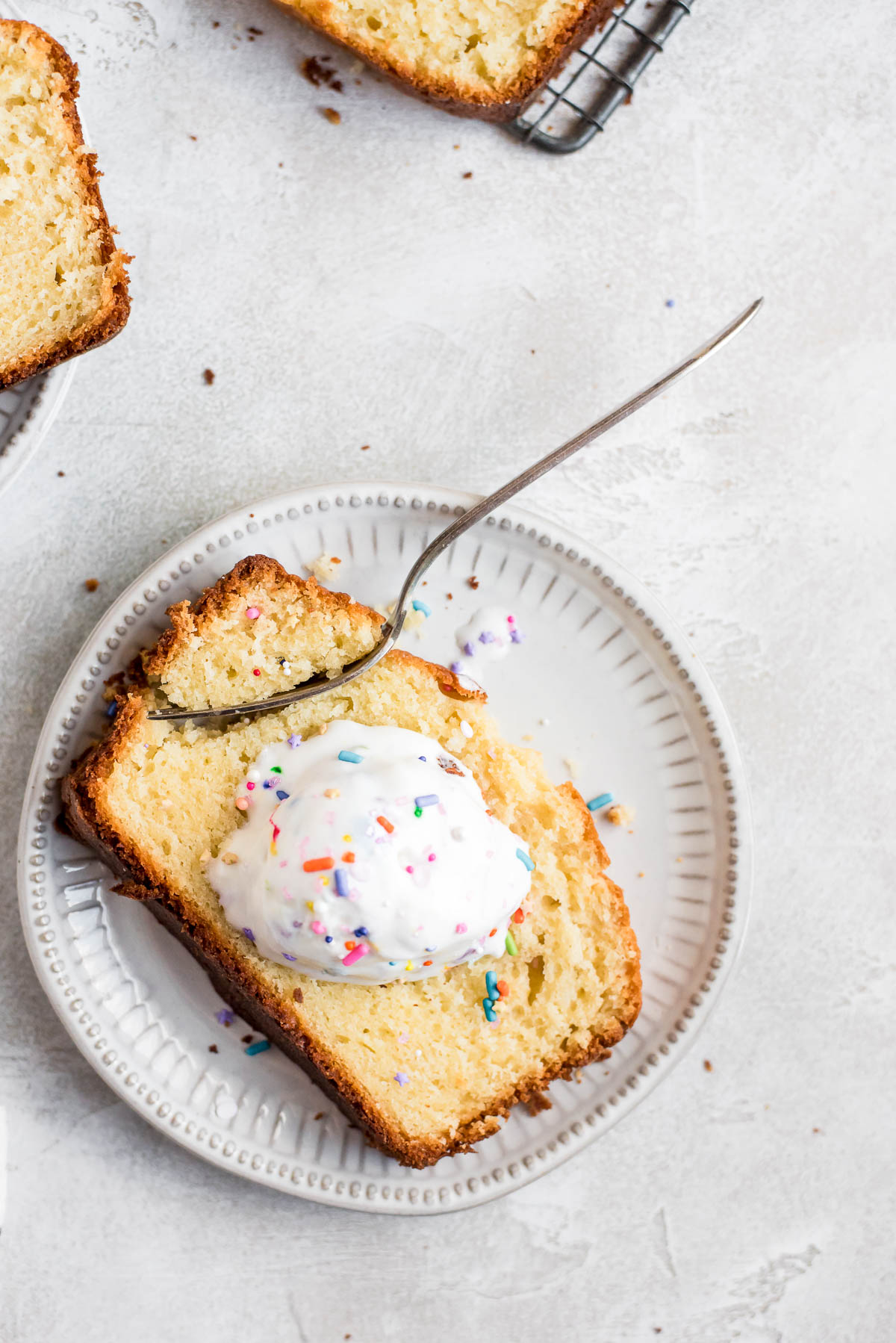 Storage tips
The best part of pound cake is its longevity. The cake can last for a little over the week if it is stored in an airtight container. 
You can refrigerate it as long as it is in an airtight container, and it will last for up to two weeks. 
Stored in the freezer, it should last for about two months. 
My recommended method for storing the cake is to tightly wrap it in plastic wrap, then place in an airtight container for maximum freshness. 
To thaw a frozen vanilla pound cake, store it in the refrigerator overnight.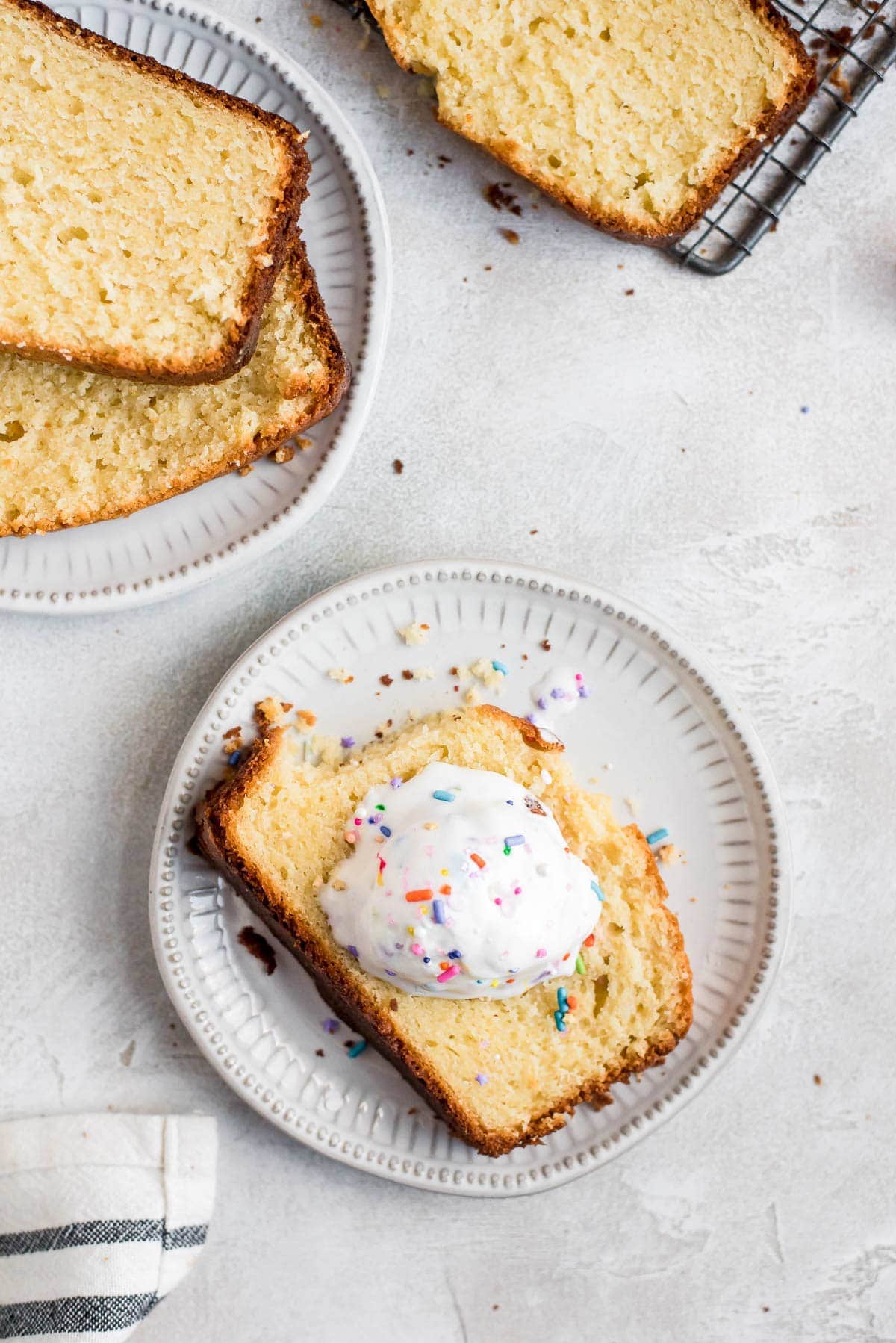 Looking for more cake?
You will love my chocolate loaf cake. If you love pound cake, you will love trying this pistachio pound cake and this very lemony lemon pound cake. This raspberry swirl pound cake is so delicious, too. 
Yield: 1 loaf
Vanilla Pound Cake
This is one light and fluffy vanilla pound cake you can't turn down!
Total Time
1 hour
20 minutes
Ingredients
1 cup unsalted butter, room temperature
1 cup granulated sugar
4 large eggs, room temperature
1 tablespoon vanilla extract
3/4 cup plain Greek yogurt
2 cups all-purpose flour
1 1/2 teaspoons baking powder
1 teaspoon salt
Instructions
Preheat the oven to 350 degrees F. Grease and flour a 9 x 5 loaf pan.
Beat the butter and sugar together until light and fluffy - about 5 minutes.
Beat in the eggs one at a time. Beat the mixture for about 1 - 2 minutes after you add each egg.
Beat in the vanilla and yogurt for about 2 - 3 minutes.
Stir together the flour, baking powder, and salt. Fold the flour mixture into the butter mixture.
Pour the batter into the loaf pan and spread evenly.
Bake for 55 - 60 minutes, or until a toothpick comes out with a few crumbs clinging to it.
Allow to cool in the pan for 10 minutes, then remove the cake. Allow to cool completely on a wire rack.
Notes
Fold the flour mixture in gently, preferably by hand.
Cool the cake fully before cutting.
Nutrition Information:
Yield:
12
Serving Size:
1 slice
Amount Per Serving:
Calories:

311
Total Fat:

17g
Saturated Fat:

10g
Trans Fat:

0g
Unsaturated Fat:

6g
Cholesterol:

103mg
Sodium:

269mg
Carbohydrates:

33g
Fiber:

1g
Sugar:

17g
Protein:

6g
The post Vanilla Pound Cake appeared first on A Cookie Named Desire.