Tips for Traveling with Kids: Planning a family trip and want to know what stroller to bring, whether or not to bring car seats or rent, and whether you should road trip or fly? Below, read all our secrets of traveling with a family of six!
This is a sponsored post in partnership with buybuy BABY. All thoughts and opinions are mine alone.
TIPS FOR TRAVELING WITH KIDS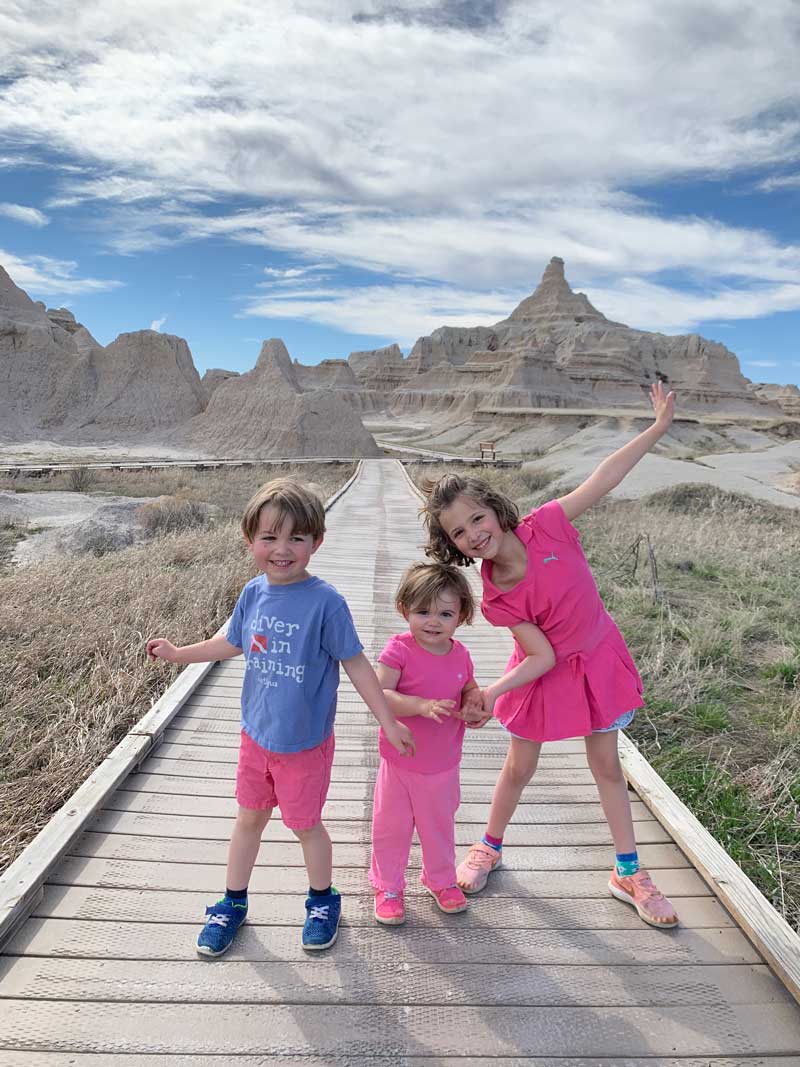 Traveling with kids is not for the faint of heart; but, we dont let the hassle deter us! With the right gear and the right mindset, youll learn to love it! Here are the best tips weve learned over the past six years (and four kids).
Every year, weve road-tripped or flown somewhere with them. Vacations dont have to be crazy expensiveour trip to Colorado this past spring was very budget-friendly and we had a blast!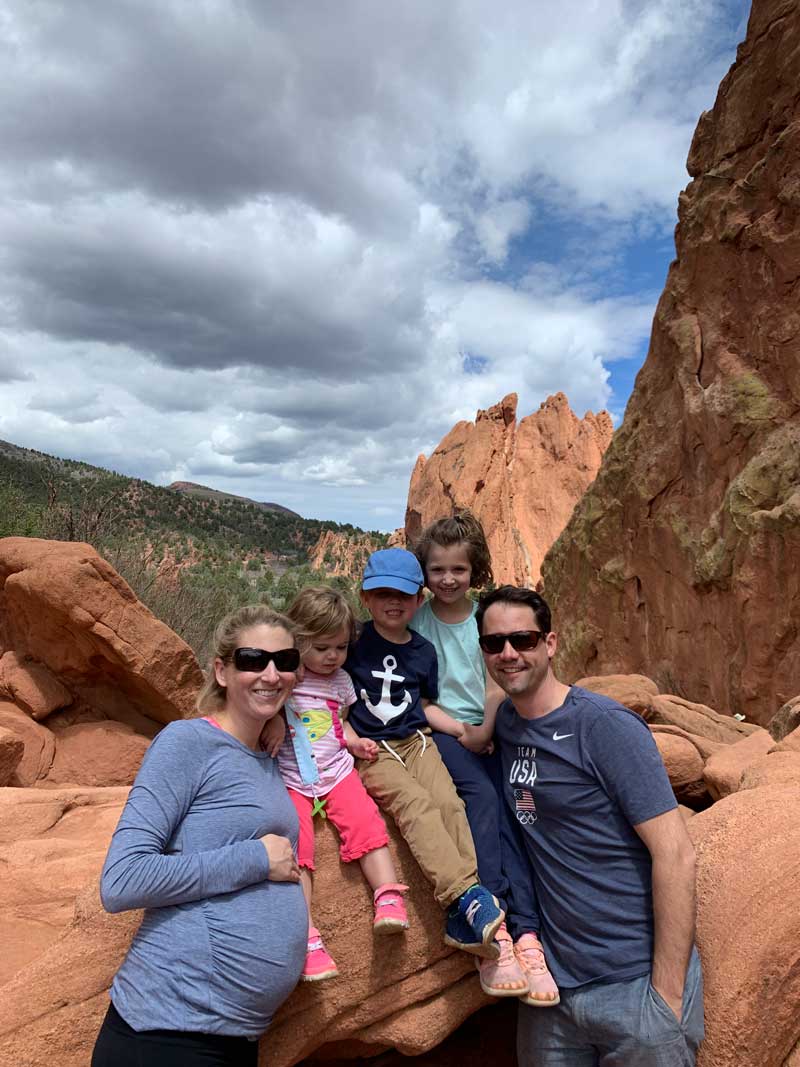 Heres a list of the places weve gone with kids:
Stowe, VT (flight)

Asheville, NC (road trip)

New York, NY (road trip and flying) x5

Pasadena, California (flight)

Newport, RI (flight)

Boulder, Colorado (road trip)

Badlands, South Dakota (road trip)

Michigan (road trip) over a dozen times at least

Cincinnati and Cleveland, Ohio (road trips)

Charleston, SC (flight)

Austin, TX (flight)

Portsmouth, NH (road trip)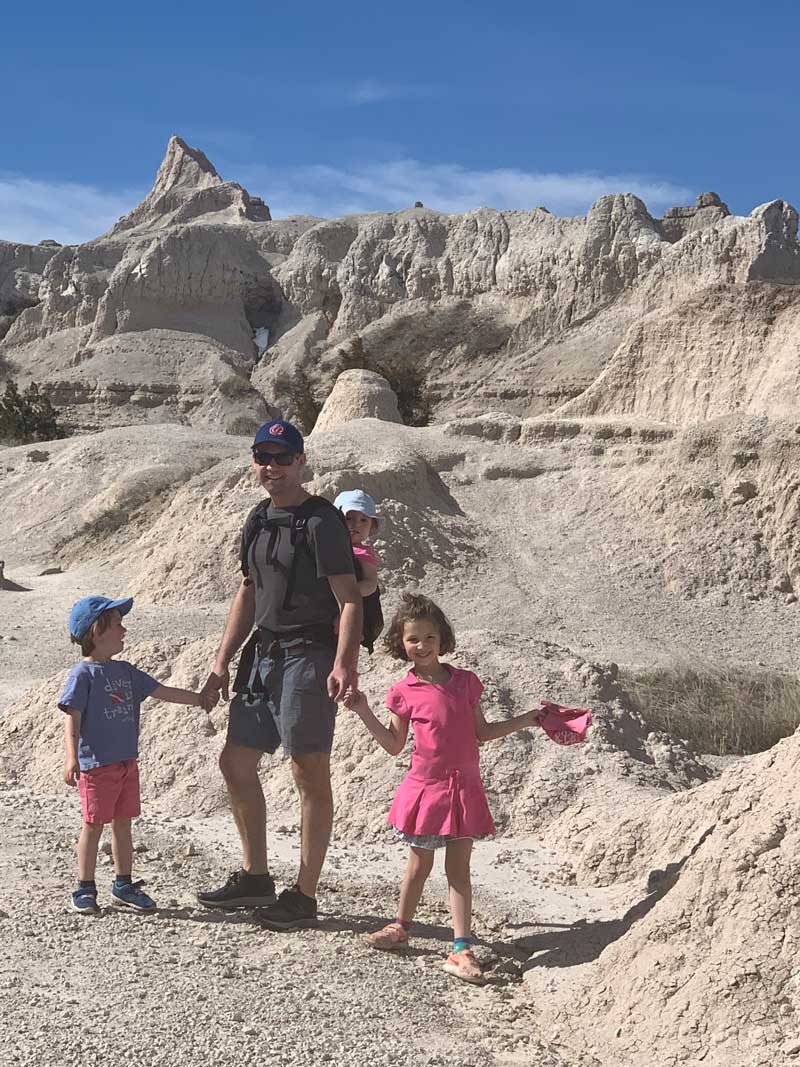 TIP 1: THE RIGHT MINDSET
One of our good friends has five kids and regularly travels solo with her brood. I asked what her secret is and she replied it is their family traveling motto: Be flexible!
Having the right midnset has allowed her to travel internationally flying solo with five kids nine years old and younger, and weather 15 hour delays and multiple layovers with a smile on her face!
While we arent near that level (weve yet to take our kids on international travel,) we do make it a point to go places with our kids.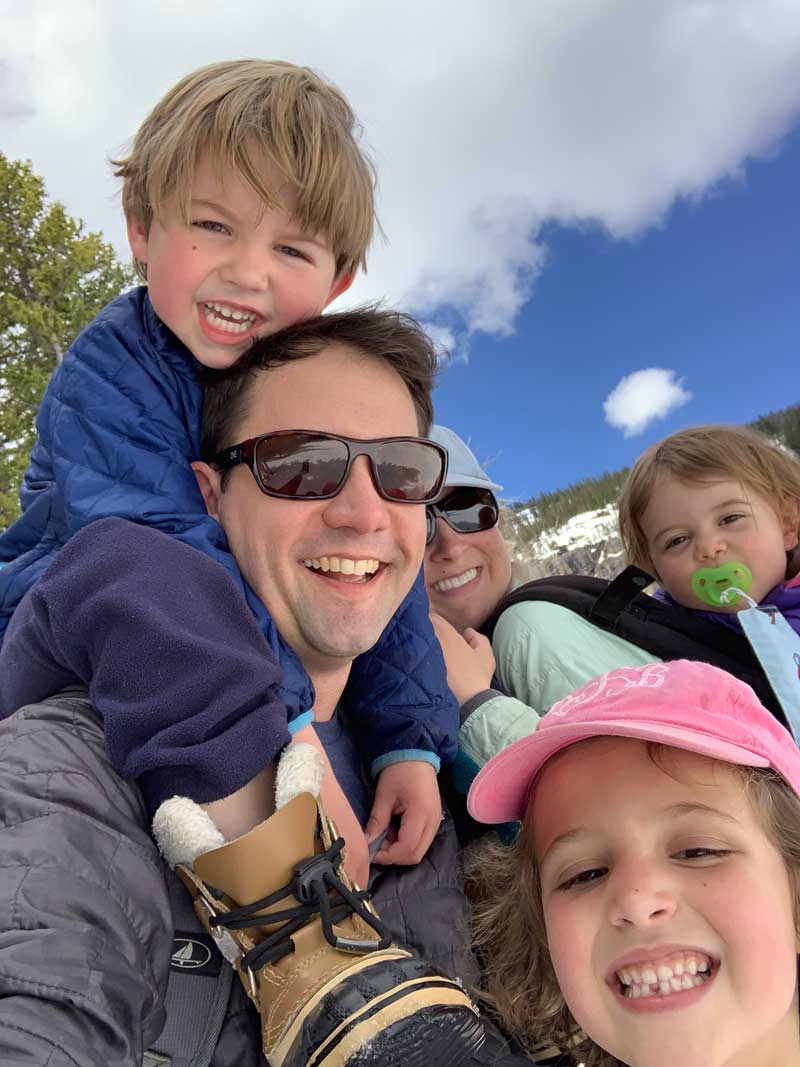 TIP 2: THERE WILL NEVER BE A PERFECT TIME
Just this year, we did a 37-hour road trip with three kids (I was pregnant 27 weeks pregnant with Caroline) and this past month, we attempted to drive to NY. I say attempted because our trip was cut short halfway there. Basically, we hit a deer on the highway halfway there, totaled the Suburban and had to go back to Wisconsin. While most people wouldnt opt to do a 15-hour road trip with four kids (including a 4-month-old), we realized that it would be easier to do it now then this spring.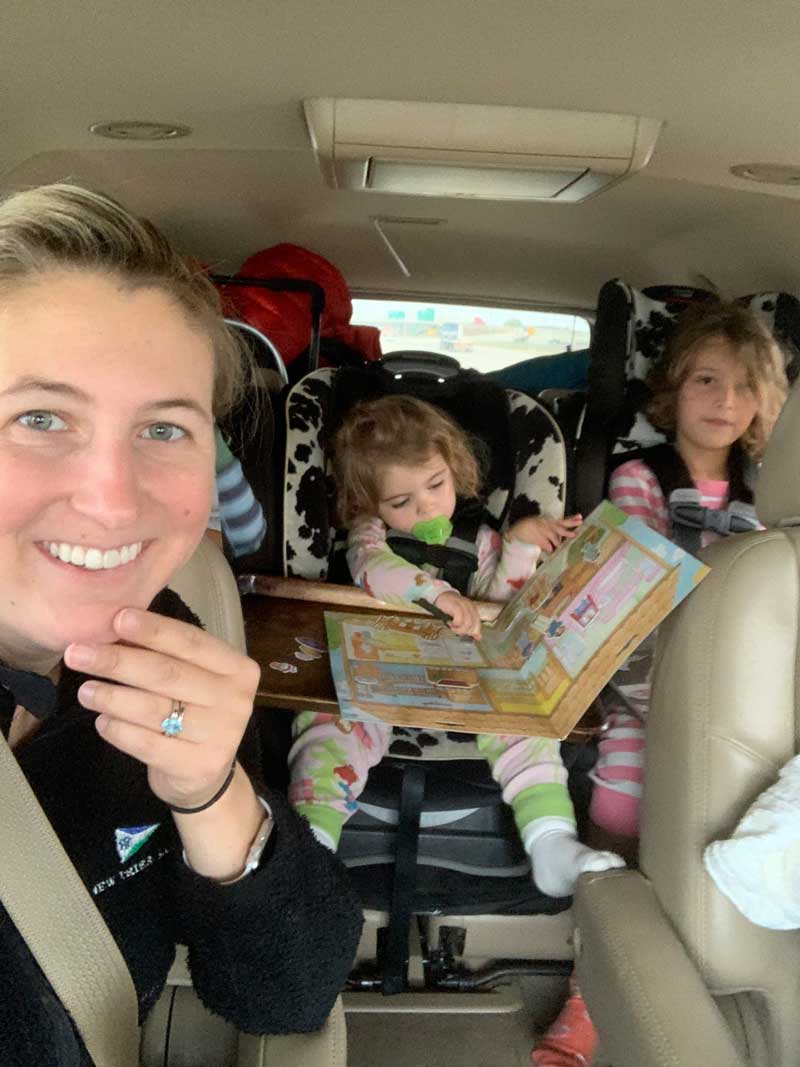 We couldnt be more thankful for our amazing car seats which kept the kids safe and asleep (even when the airbags deployed!) These are the exact car seats we used: Bowe (booster at 50 lbs.), Jack (convertible), Brooke (convertible), Caroline (infant). They are actually the car seats I registered for at buybuy BABY when I was pregnant with Bowe. We had a Peg Perego infant car seat then (weve since replaced it because it expired with another Peg Perego Primo Viaggio) and added three more car seats to the mix.
TIP 3: BRING THE RIGHT GEAR
What stroller to bring:
For every single trip weve brought one strollerthe same stroller we registered for with buybuy BABY seven years ago when I was pregnant with Bowe! It has traveled to both coasts and the Rocky Mountains! Its navigated one kid, two kids, three kids, and now four kids and has covered hundreds (if not thousands of miles.)
It is always in the back of our Suburban for going to the zoo, the aquarium, or the arboretum! While we love using our Double BOB Jogger for jogging and around the neighborhood, our Baby Jogger City Select is the one I reach for whenever we travel.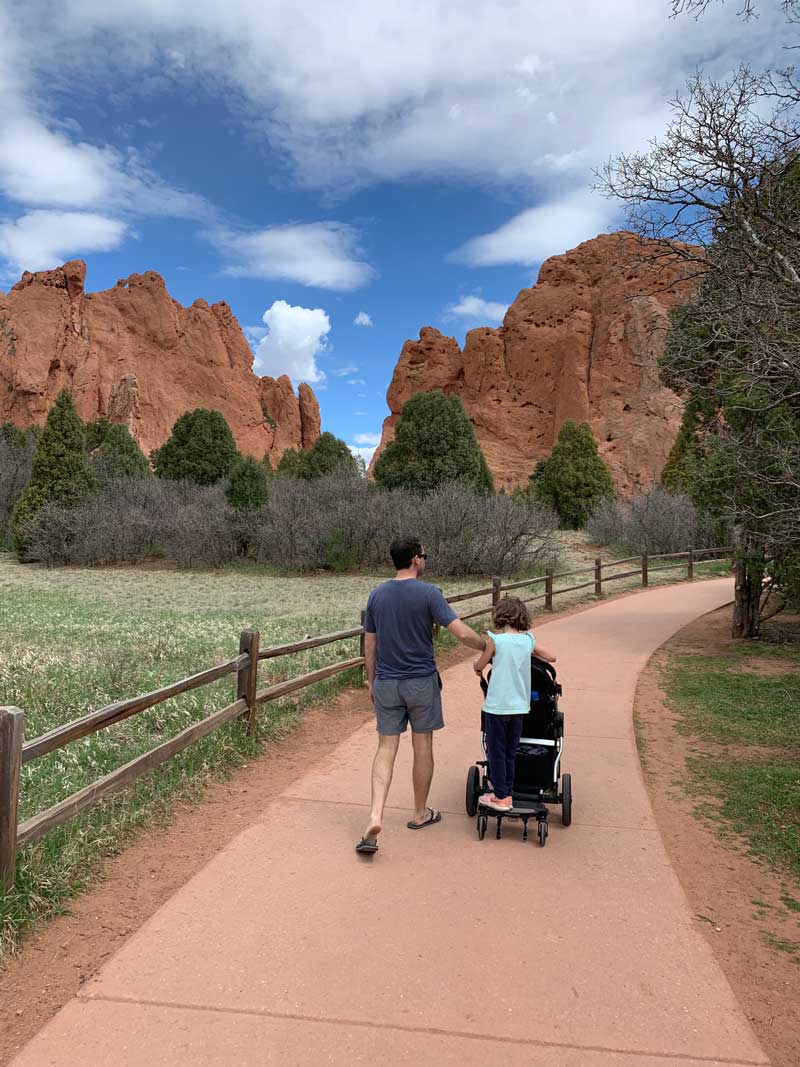 BABY JOGGER CITY SELECT VS. UPPABABY VISTA
I recommend registering for a convertible stroller as it is expensive. Several of my aunts pitched-in together to buy us the convertible stroller and car seat which we are still so thankful for! We considered the Uppababy VISTA; but for budget reasons, we chose the City Select.
Set-up your baby registry hereeven if you are a second-time, third-time, or fourth-time mom! The registry benefits are amazing and you can use the 15% registry completion benefit to buy big-ticket items! Plus, you get free shipping, a free goodie bag, and get referral rewards! See more about registry rewards and benefits here!
Another reason other than budget we went with the Baby Jogger City Select is that it has a higher weight limit for both chairs (and still does) which I prefer (both seats in the stroller have a 45-pound weight limit) whereas the Rumble Seat on the VISTA has a 35-pound weight limit (and the toddler seat has a 50-pound weight limit.) This gave me more options at a lower price point.
Note: For the UPPAbaby Vista, you have to use the Toddler Seat in the top position, and I usually prefer my older child facing out ahead and the younger one inside because of the lack of legroom. Its all about personal preferences.
MOM TIP: When registering for a stroller, go in-store to buybuy BABYand test them out! Youll get the best idea of what stroller you like from going in store! They have all the most popular models in store and you can put the VISTA, the Bugaboo Donkey, and the City Select head to head!
While I think the overall finishes on the UPPAbaby City Select are higher and the under stroller storage larger, weve been very happy with our budget-friendly alternative and its held up exceedingly well over the years. And it has seen daily abuse. When we lived in Chicago, we had to fold it up daily and lug it up to a second-floor apartment.
These days it resides in the back of our Suburban so its always ready!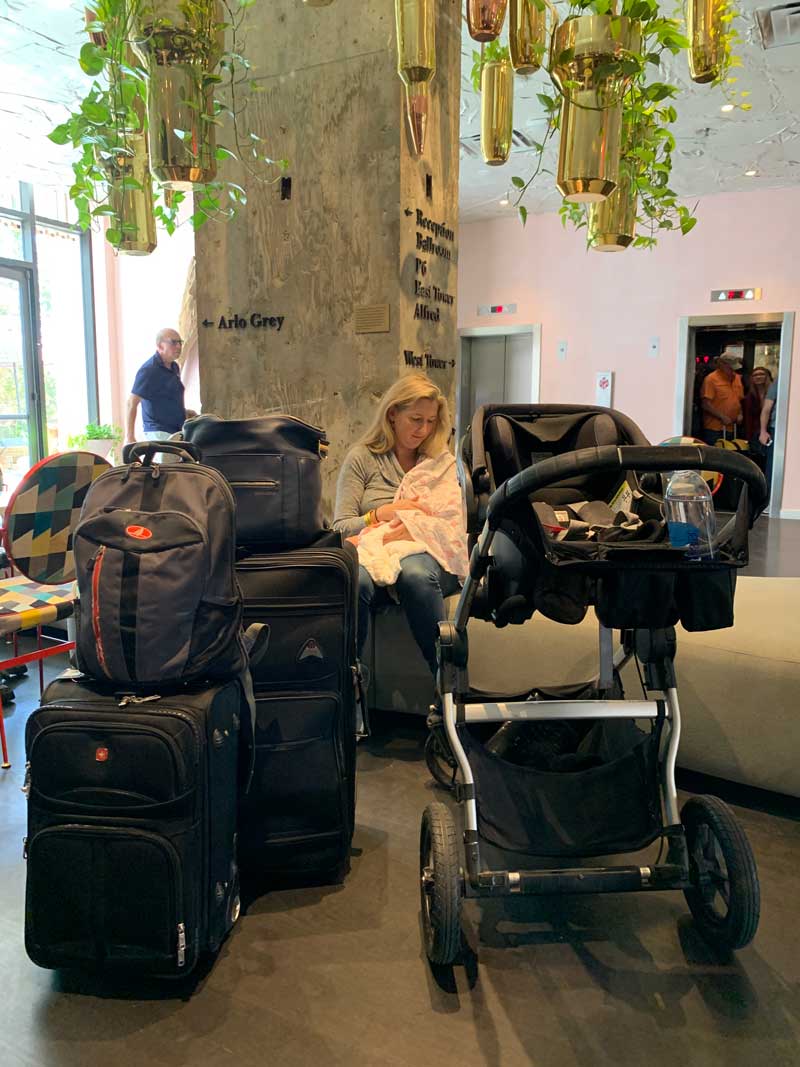 A STROLLER FOR THREE KIDS
Even with our four kids, I could theoretically put Caroline in a baby carrier (I recommend registering for this one,) put Brooke and Jack in the stroller seats facing forward (Brooke is in the seat closest to me because it has the least legroom,) and have Bowe ride on the rumble board (she is very tall and skinny at 6.5 years old) and is 45 pounds (the weight limit.)
MOM TIP: To find out what carrier fits you best, and is most comfortable go in-store to buybuy BABY (find your closest buybuy BABY here) and try them on! Youll get the best idea of what type of carrier you like, what fits you best, and what your baby prefers!
OTHER STROLLER OPTIONS:
The only other option I have been tempted by is the Bugaboo Donkey2. Unlike traditional side-by-side models, it has a narrow footprint so it is still able to go through standard door frames. Also, its glider board is more ergonomic than the Baby Jogger City Select or the UPPAbaby VISTA because the child can lean over the seat (rather than have the handlebars in his face.) But, it costs a lot more than either the UPPAbaby VISTA or the Baby Jogger City Select.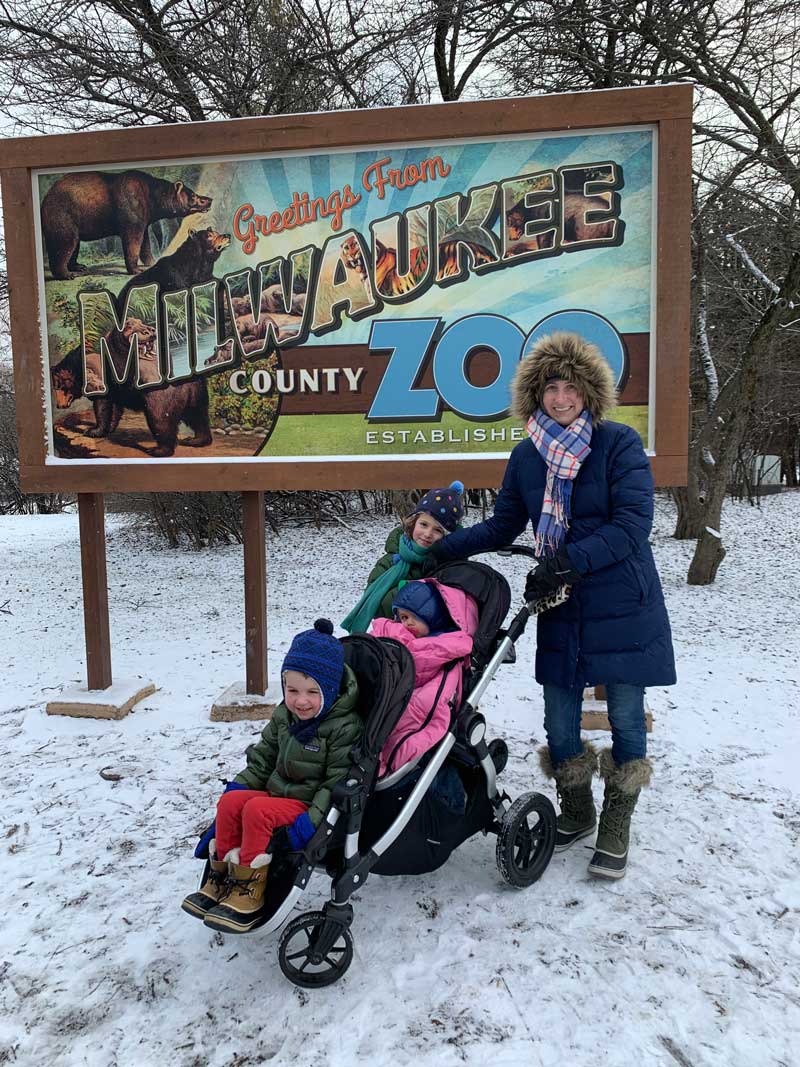 Related: See our favorite jogging stroller here and why we love it
Tips for Traveling with a Stroller
We always bring our convertible stroller (even when we only have one child with us) because of its ability to attach to the infant car seat. Even trips that dont require a stroller are a lot easier when you have an infant car seat for the airport.
Why not curbside check your infant car seat and stroller?
We always gate check or carry on our infant car seat because it is nice to have a dedicated place for the baby to lie, and b) the stroller and infant car seat help schlep all the other gear. The stroller will serve as a home base for your carry on bags, drinks, and keeping your kids wrangled, and transporting your infant car seat.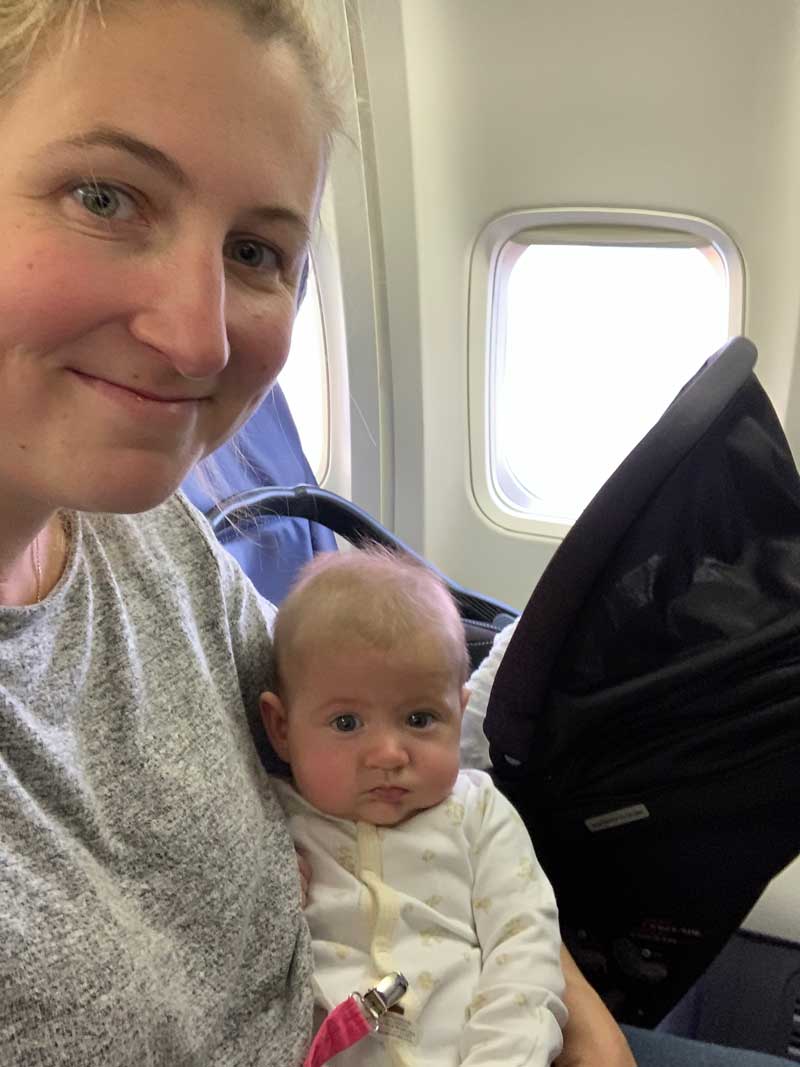 What about an umbrella stroller?
If you want an ultra-light stroller then get one that fits a car seat like the new UPPAbaby MINUtest it out at your local buybuy BABY. It is unlikely you will be going somewhere that wont require a car seat because you will have to travel to and from the airport somehow.
How to Protect Your Stroller
When you travel with your stroller, you will want to protect your investment! Each stroller manufacturer has its own travel bag, and they will come in handy if you need to carry the stroller for some reason. The best place to buy a stroller protector is buybuy BABYthey have the best prices and the greatest variety!
Related: Traveling with a Baby
TIP 4: Factor in rental costs when planning a trip
Whether we fly or drive depends on a couple of factors: how many children we have with us, how long we will be there, and how long the road trip will take, and of course budget!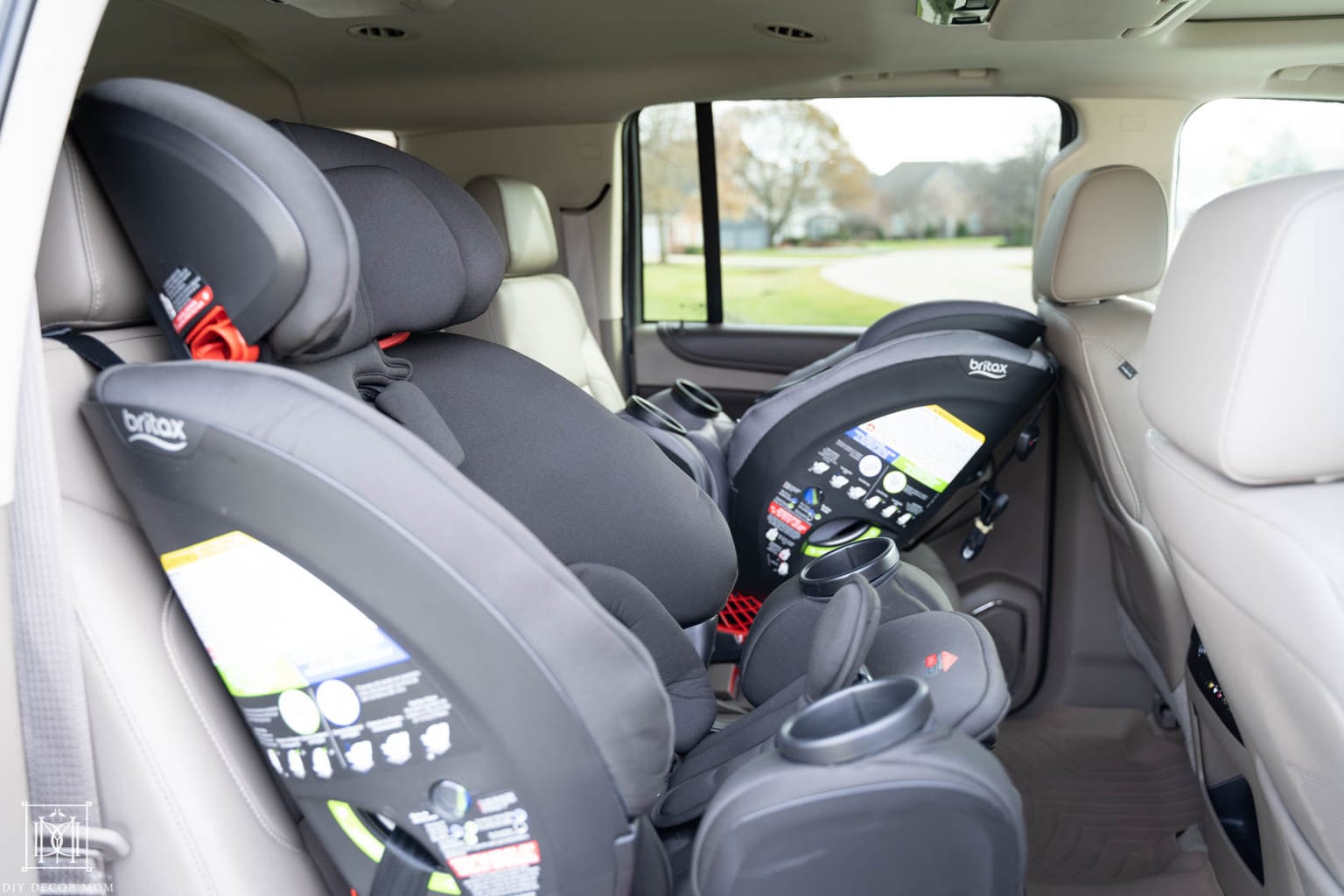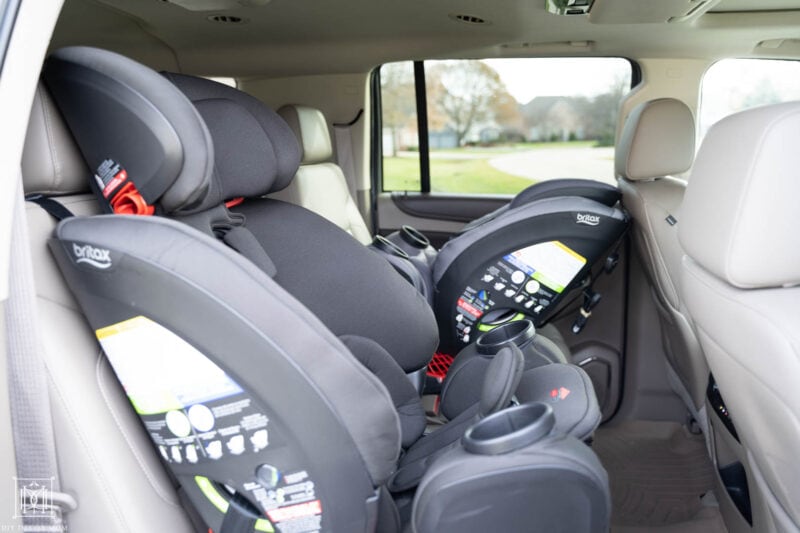 Car Rentals for Large Families
With a large family, you have to rent a large car (especially if you have four car seats,) so you have to include the car rental price in your travel budget. Renting a minivan or large SUV can cost roughly $1K, so we often drive over flying just for budget alone!
Secondly, the logistics of flying with four kids and carting four car seats is not always easier than just driving. It only takes one trip to NYC and arriving at 2:30 AM after 10 hours of travel to realize that lugging three car seats around the airport shuttle to pick up your rental car might not be the path of least resistance!
Should You Rent Car Seats?
Like I said, as our family has grown, our options for renting cars have gotten smaller. Five years ago, we were able to get away with a compact car rental. Now, it isnt feasible these days!
That said, we have rented cars. While you can rent car seats from your car rental agency, I am very picky about my kids car seats and prefer to bring our own. With the Britax Click-Tight system, its very easy to securely attach any of the Britax car seats with or without LATCH to a rental car.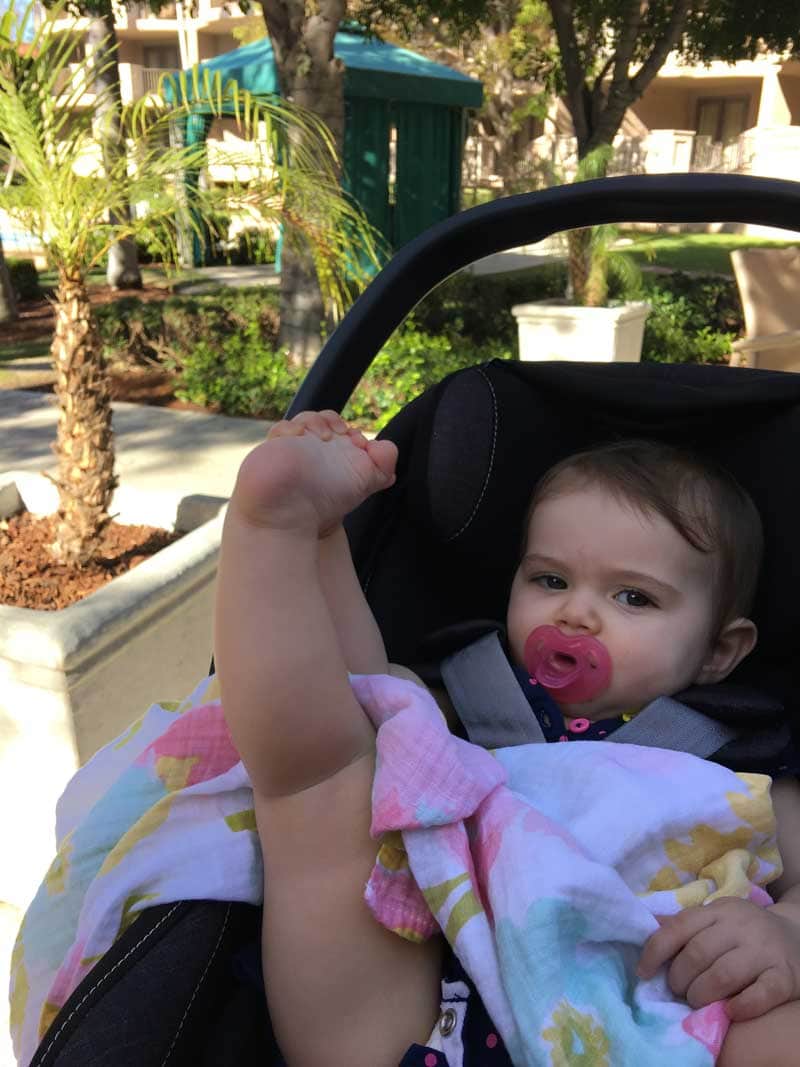 With our infant car seat, we dont travel with the base (because its just one more thing to carry!) A favorite feature of our Peg Perego infant car seat is that it is so safe and that it can be securely installed in a car with a lap belt only.
MOM TIP: Look for infant car seats that have European ability to use a lap band to secure in a car without the base! It will make your life so much easier if you plan on taking taxis or rental cars!
Tip 5: Flying with Car Seats
We always fly with the same airline and they have a very generous checked baggage policy (they allow two checked bags per ticketed customer and check carseats for free, and allow you to gate check your stroller.) While we could wheel the car seats through the airport, we usually choose to check them so we have our hands free with the kids.
MOM TIP: Take the infant car seat and the stroller all the way to gate check (and take the infant car seat on the plane) if possible when they have extra seats.
Youll want to buy covers to protect your car seat investment if you are gate checking them. If you have older children and want them to sit in their car seats on the plane (and you have multiple kids) then you will want one of these wheeliesyou can get it online at buybuy BABY.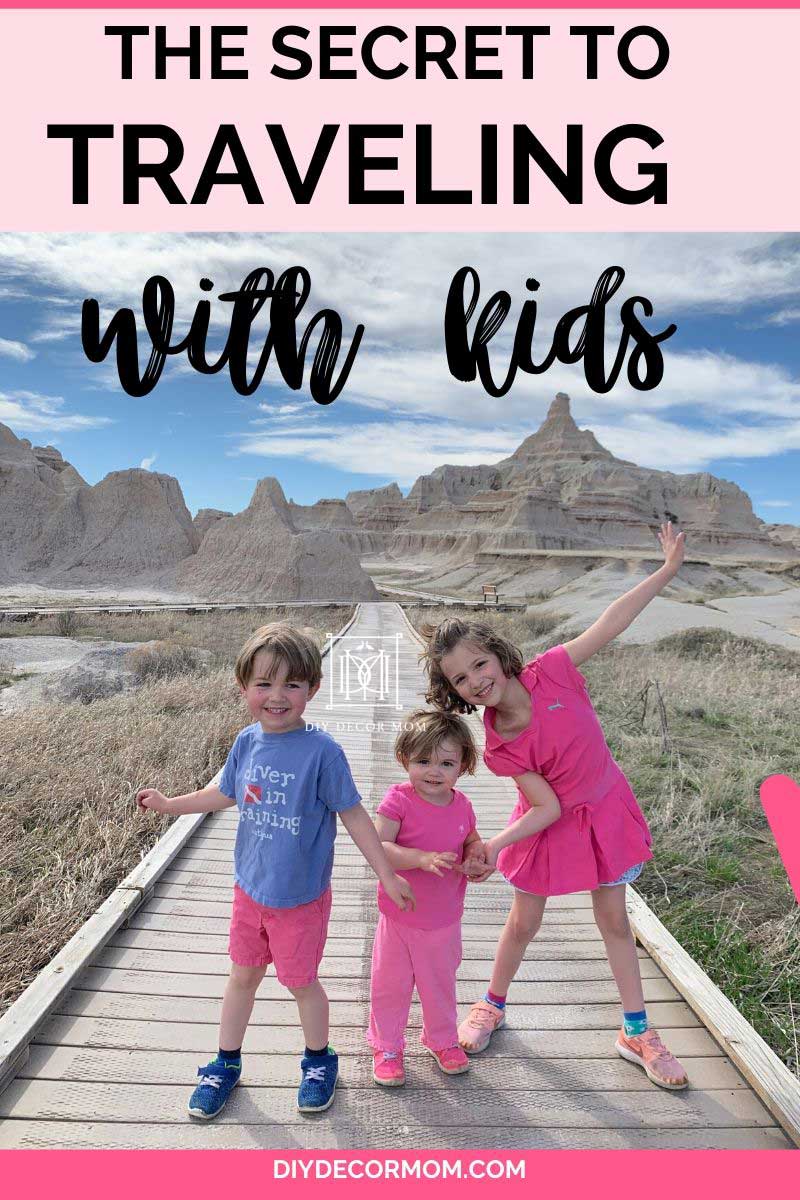 What about compact or foldable booster seats?
We are finally getting to the point where I would be comfortable for Bowe to use a Mi-Fold foldable booster seat for short car rides from the airport if we flew somewhere. But, the other children are too small for them so we will continue to bring our own huge car seats everywhere.
Related: Kids activities for road trips and travel
Why would you want your kids in their car seats on the plane?
If its an overnight flight, your kids will most likely sleep better with some kind of support in their car seat that they are accustomed to. Just make sure that their car seat is airline certified.
TIP 5: Seating on Planes for Large Families
We always fly with the same airline, so we rack up a ton of miles. It is an airline that allows us to choose our seats when we board and since we always get Family Boarding (after the first priority group and before the second and third groups), weve always been able to choose an entire row for the family. I sit one side with the baby and one child, and potentially an empty seat. And my husband and my two other children sit on the other side of the aisle.
MOM TIP: When you check-in, ask the attendant if they have any extra seats on the plane. With the airline we fly with, Ive been able to get an extra seat for the infant car seat three times out of the last four times Ive flown. This will allow you to have your hands free to watch and take care of your other children.
Have each child have their own special activities to do on the plane and their own bag of snacks.
Related: Screen-Free Activities for Kids
TIP 6: What to Pack for Kids to Sleep In
For the majority of our trips, weve had at least one baby and one child sleeping in a pack n play sleeper. We use our Baby Bjorn child cot which has been with us since Bowe was a baby, and since we got the DockATot with Brooke, we bring that everywhere for the baby to sleep in. We put the DockATot in the middle of a queen size bed and we are good to go!
Look for double rooms with queen size beds if you have more children. Then you and your husband can share one bed and the older kids another.
TIP 7: Skip Non-Necessities
Do you bring a travel high chair? If so, which one?
Unless we have a baby aged 6 months to 18 months old, we do not travel with a high chair. We do have this one, which is great but unless you need it, save the room in your bag! Most restaurants will have one, we just pack one if we are staying at a vacation rental property or family where there isnt a high chair.
This is the exact travel high chair we havewe picked it up at buybuy BABY.
Should I bring a monitor on the trip?
The more children we have, the more our childrens naps consist of on-the-go snoozes in the car. I think we only had one naps total that was in a bed on our last vacation to Michigan (a 10-day vacation) with a 2 week old, 2 year old, 4 year old, and 6-year-old. We had one nap in the room with our 2-year-old on our 9 day trip to Colorado this spring. Instead, we let the kids snooze on the boat, in the car, or in the stroller so we could retain our freedom for activities throughout the day. Kids are adaptable and are more flexible than you think.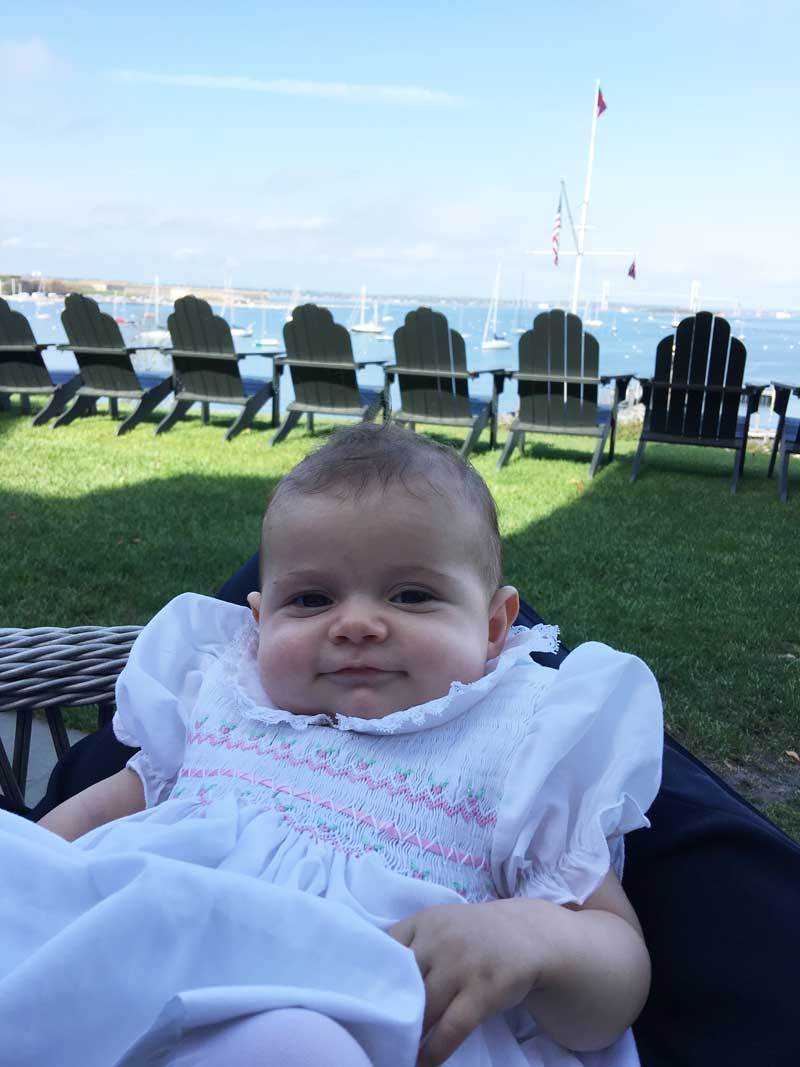 SHOP OUR FAVORITE TRAVEL GEAR FOR KIDS

The post Tips for Traveling with Kids from a Mom of Four appeared first on DIY Decor Mom.