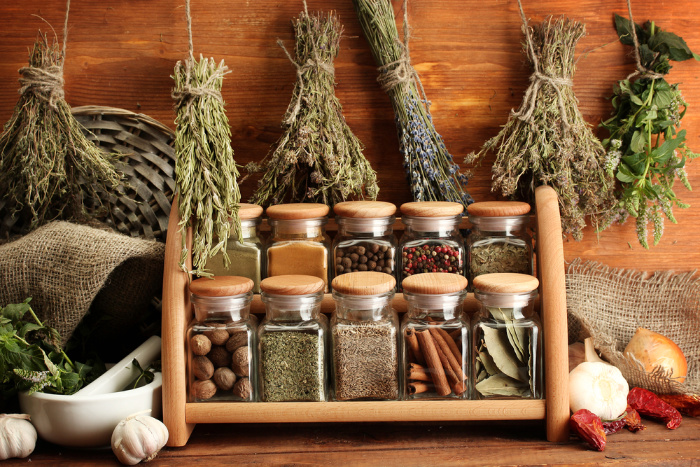 Today it's all about spices: the best way to store them. It seems like every time you are looking for a particular spice or seasoning in the pantry it's always the very last jar that you reach for. At least that's my luck.
The lack of organization amongst so many spice containers can be aggravating, especially when you are trying to follow a recipe that requires a lot more energy and focus. We're going to dive into spices: the best way to store them. 
Spices: The Best Way to Store Them
The picture below is my main spice rack storage cupboard. Welcome to my little kitchen where I have fun baking and cooking.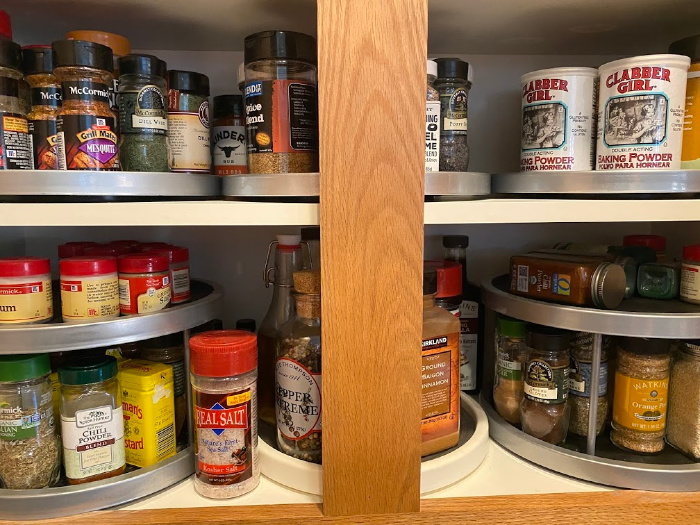 It's time to stop with all this senseless digging and come up with a more functional system that's not only easy for you to find what you're looking for, but also one that comes across as eye appealing. Check out these many clever and convenient ways of storing spices that will reduce all the headache.  
Properly Storing Spices 
Before we get into all the many crafty and convenient ways that you can store spices, let's take a look at the ideal storing conditions for spices, shall we? It's actually pretty simple. Spices are best kept in dark, cool, and dry locations.
It's recommended that your red spices (like paprika, chili powder, and red pepper) should be stored in the refrigerator, especially if you live in a hot climate. 
On one last note, don't store your spices in a cabinet directly beside or above your stove. Although it may seem to be of more convenience, the high heat coming off your stove can tamper with your spices flavor.   
Shelf Life
I thought this picture of spice jars was cute, but then I would have to buy all new jars, then fill them with my spices.
So I might be teasing you a bit, but it's also important for you to be aware of just how long certain spices last while being stored. When you're considering ground spices and herbs such as leaves, flowers, barks, and seeds, you're only looking at about a one-year shelf life for them. You can expect just around 2 years for ground roots.
You get a bit longer shelf life from whole spices. Whole spices that have leaves or flowers tend to get 1 to 2 years. Whole barks and seeds are good for another 2 to 3 years, and whole roots can last for about 3 years.  
Clever Ways to Store Spices
Hang a Rustic Wire Pantry on the Wall 
If you like the idea of having your spices out in the open and don't mind using some of your wall space to do it, the rustic wire pantry adds character and easy access to your kitchen's spices. 
Revolving Countertop Spice Rack 
Most kitchen countertop space is precious, but if you have the room, or just the right spot where you can put a revolving countertop spice rack, this is a great option.
Not only that, but this one that you can get on Amazon comes with a 5-year spice refill of your choice. What a steal…I mean, deal! 
Tiny Test Tubes
Nothing reveals your scientific or fun side quite like these tiny test tubes that are suitable for storing spices. It adds color, organization, and a much-needed different look to your kitchen. 
Try Using Drawer Inserts
Instead of using any upper cabinet space, what do you think about arranging your spices in a drawer insert? This will keep your spices perfectly in place, and it's another great way to easily track down what you are looking for. 
Mason Jars Placed In a Drawer
One neat and stylish way of organizing your spices is by using mason jars to store all your needs. Try using chalkboard paint to cover the tops of each lid and then use chalk to clearly label and identify each jar.  
Pull Down Spice Rack
A pull-down spice rack is another clever way of being able to find what you're looking for when the burner is on and the timer is ticking. This option is easy to tuck away in one of your kitchen cabinets, and brings you the instant satisfaction of grabbing what you need.  
DIY Sliding Spice Rack
If you're extremely gifted with building stuff, consider constructing a sliding spice rack that can easily be stowed away. Some people build it right into their cabinet space, while others tuck it in the gap beside their refrigerator.   
3 Tier Spice Organizer
Believe it or not, spices that are tucked away in a deep cabinet can work. That's right! With a 3 tier spice organizer, your spices will be on little stair steps that make it easy to see the spices and herbs that are way in the back. 
Magnetic Strips 
If you are limited on cabinet shelf space like most of us, this one will help you take full advantage of the space that you do have. Hang magnetic strips on the inside of one of your cabinet doors that makes the most sense to you.
Then simply store all of your spices and seasonings in metal containers that are clearly labeled or identifiable. It even looks super good when you're finished too! 
Some people have so many spices that they prefer to make a spice magnetic wall, which is perfectly acceptable as well. Your spices can be arranged in a way that makes your kitchen decorative and eye-catching.
One way of doing this is by purchasing metal containers that are in a hexagon shape and then join them in a way that closely resembles a spice honeycomb. 
The wasted space underneath your kitchen cabinets is one last prime real estate that you can take advantage of by hanging a magnetic strip of spices there also.   
Stackable Tins
Get yourself a nice set of spice tins that make it possible for you to clearly label each spice. This makes storing spices much more organized instead of dealing with rows of spices that you have to dig around and behind. 
Final Word
Okay, so this article was originally supposed to be about the best way of storing spices, but now you have a dozen or so that can work with. If you're anything like me, you've probably gone far too long with a cluttered cabinet with spices that has no rhyme or reason to it. 
It's time to walk away from this mindset and embrace the idea of time-less-wasted. I'm confident that one of these hacks will bring more functionality and purpose for you while you're in the kitchen.
Spices: the best way to store them: what is the best way you have found? Please keep prepping, we must. May God bless this world, Linda
Copyright Images: Spice Racks Deposit photos_53131849_s-2019, Spices with Dried Herbs Deposit photos_12889122_s-2019, Spices in white box Depositphotos_7538108_s-2019
The post Spices: The Best Way to Store Them appeared first on Food Storage Moms.