Unlike other sourdough chocolate chip cookies recipes, these sophisticated cookies are thick and chewy, not cakey, because of the rolled oats in the dough!
I know I've been developing a lot of recipes using sourdough starter discard. But I can't help myself. I have sourdough banana bread and sourdough onion rings. But once I figured out that I could make sourdough chocolate chip cookies with the discard, I was hooked! The tangy sourdough discard soaks into the thick cut rolled oats I used in the dough, and creates one of the most complex sophisticated chewy (not cakey) chocolate chip cookies I've made in a long time. It quite possible might replace my bakery-style chocolate chip cookies as my new favorite.
How do you make sourdough chocolate chip cookies?
Making sourdough cookies is similar to making regular chocolate chip cookies, but with two additional steps. You need to add the sourdough starter discard, and you need to add rolled oats to the cookie!
First you mix butter, brown sugar, white sugar, vanilla, baking soda, salt and a touch of nutmeg together until you have a creamy paste. Then you add an egg.
Once the egg is incorporated, add the sourdough starter discard. Then the flour and rolled oats! Stir in the chocolate chunks until they are evenly distributed in the dough.
Then (the hardest part) you wrap it all in plastic wrap and refrigerate for two days! Waiting is hard but totally worth it. Once rested, pull it out and bake it off with a little sprinkling of salt on top.
Why do you need to refrigerate the dough?
The sourdough starter discard is made with both flour and water. If you bake the cookies right away, the water in the dough will lead to a cakey cookie. Which is fine if that's what you are looking for, but if you prefer a deep, more complex, chewy sourdough chocolate chip cookie, letting the dough chill in the fridge is the solution!
Chilling the dough in the fridge allows time for the rolled oats to absorb the liquid which leads to a chewy cookie. It also allows time for the flour to hydrate as well. In addition, the sourdough starter will develop more, creating a deeper flavor. The resulting dough will transform from a sticky paste to a drier cookie dough. And the baked cookie will have a complex caramelized ever-so-slight tangy flavor.
Where can I get a sourdough starter?
There are many online tutorials on how to make a sourdough starter on your own. My favorites include The Perfect Loaf, The Kitchn and King Arthur Flour. Instructions are fairly simple, you just combine flour and water and then let it sit around (anywhere from 4 to 9 days) until it starts to bubble, discarding some of the starter and feeding it with more water and flour on a daily or twice daily basis!
But if you don't want to make a starter from scratch, you can ask your friends or neighbors if they wouldn't mind sharing some. Facebook and Nextdoor are both great places to ask for starter. Because you have to feed and discard part of the starter on a regular basis, most folks have leftover starter they are happy to share with folks.
Of course, you can also just purchase a starter. King Arthur Flour sells starter online for those folks who don't want to make one or can't obtain one from friends.
Can I make this recipe without the sourdough starter?
This recipe is designed to be made with sourdough starter discard. If you don't have a starter and don't feel like making/getting one, I recommend you check out my chocolate chip oatmeal cookies or my bakery-style chocolate chip cookies recipe instead.
At what stage should the sourdough starter discard be at?
When you feed your sourdough starter, the starter usually has completed it feeding cycle, meaning it has collapsed in the container and needs more food. This is when you "discard" some starter and add more flour and water to the remaining unfed starter.
This recipe is designed for that starter discard, meaning it should be fairly liquidy, the consistency of pancake batter. If there is a little dark gray liquid (sometimes called hooch) on top, that's ok. Just mix the liquid back into the starter before measuring out the 1/2 cup.
If the starter is still sticky and viscous, or "stringy" when you stir it, then it hasn't completely digested all the gluten and flour. You need to let the starter digest more before using it in this recipe. Just set aside the starter discard for a day or two, without feeding it, at room temperature. It should be ready then.
How do I store these cookies?
These cookies store and keep on the countertop at room temperature for about 3 days. For longer storage, I place them in a resealable freezer Ziploc bag and store them in the freezer or up to 2 months. I warm them up by placing them on the counter for about 20 to 30 minutes. Or, if I'm impatient, I microwave them for 30 seconds or place them on a small baking sheet and heat them up in the toaster oven for 5 minutes at 300°F.
Can I freeze the cookie dough?
Yes! If you freeze the cookie dough, I suggest you first let the dough rest in the fridge for the 2 days. This makes it easier to handle the dough. Then form the disks and freeze the disks on a baking sheet in the freezer. Once the dough has frozen solid, move them to a resealable freezer Ziploc bag. Frozen cookie dough lasts up to 2 months in the freezer.
You can bake them directly from the freezer without thawing them. Just add an additional 2 minutes or so to the overall bake time.
What chocolate should I use in this cookie?
Everyone's favorite chocolate is different. I have friends who prefer milk or white chocolate while others say the darker the better! Personally, I find the sweet spot (get it? THE SWEET SPOT) is usually around 54%. For me, it's a great balance of sweetness and dark chocolate.
But you can use whatever chocolate you like to eat out of hand. Feel free to also mix it up and use different chocolates in the cookie! This particular cookie has a mix of milk, 54% dark and 72% dark chocolate in it. A mix of chocolate types gives the cookie even more dimension and complex flavor.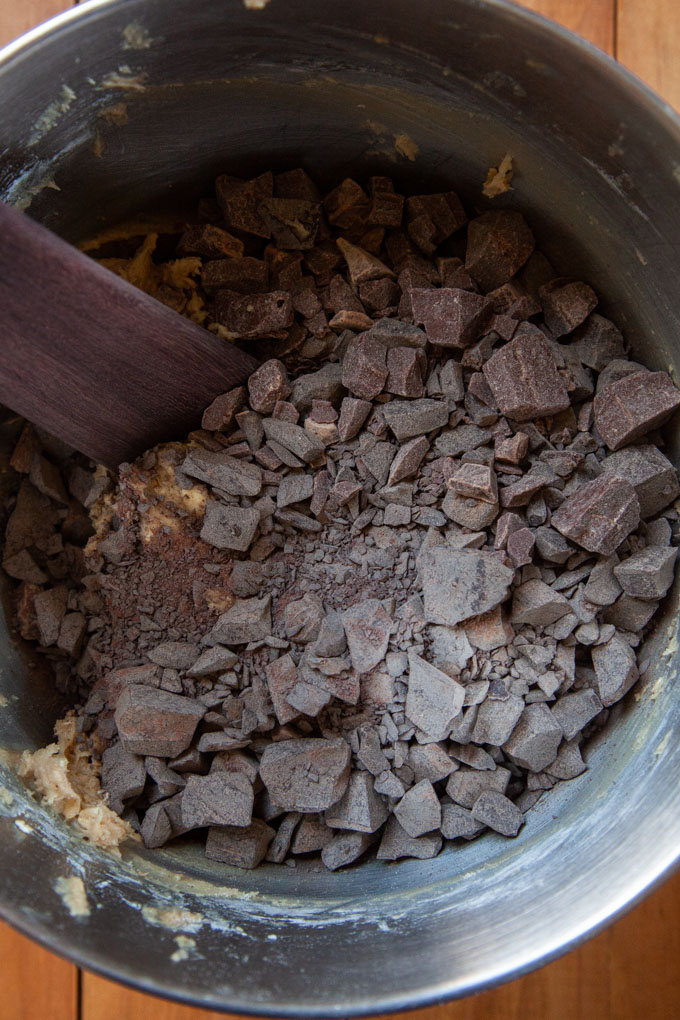 Can I substitute the chocolate chunks?
Yes! I love to use chopped chocolate chunks in my cookie because they melt better than chocolate chips which are designed to hold their shape when heated up.
But if you don't have chocolate that you can chop up or you don't feel like doing that extra step, you can totally substitute chocolate chips, another flavored chip, chocolate candies, or add in nuts. Just use 2 cups total of whatever you use. Here's a few suggestions:
Chocolate chips: white, milk, semi, or bittersweet
Butterscotch chips
Peanut butter chips
Cinnamon chips
M&M candies
Reese's Pieces
Walnuts
Pecans
Pistachios
Macadamia nuts
Cacao nibs
Tips on making the best sourdough chocolate chip cookie
Rest the dough in the fridge for 2 days. This allows the rolled oats to absorb the liquid and gives a chewier, more complex-flavored cookie.
Use cold butter and eggs. A lot of recipes require you to bring the butter and egg to room temperature. Don't bother doing that with this recipe. Just cut up the butter into 1/2-inch cubes first. This will let it cream easier in the mixing bowl. You want a thick paste to cling to the side of the bowl, but you don't need it to be light and fluffy. Fluffy and over beating the butter will lead to a more cakey cookie.
Use thick rolled cut oats. You can use regular rolled oats but I prefer thick cut at they give a bigger "chew" to the cookie. If all you have is quick cook rolled oats, that will work too. Just keep in mind the resulting cookie won't be quite as chewy. Don't use instant already sweetened oatmeal that comes in the packet. That oatmeal already has sugar and flavoring in it and won't work in this recipe.
Press some chocolate on top of the cookie right before you bake. This is a food styling trick but it ensure that not only will your cookies look Instagram/Pinterest worthy, but also means you have extra chocolate in every cookie.
Sprinkle some crunchy salt on top. If you have sea salt like Maldon or Sel de Gris or fancy-pants finishing salt like vanilla salt, this is the time to use it! The salt on top gives a nice crunch as well as a sophisticated counterpoint to the sweet cookie.
Underbake the cookie slightly. Once you see the edges of the dough start to turn golden brown, take the cookies out of the oven. Let them rest on the baking sheet for 5 minutes, to let the residual heat help bake off the cookie. But the under-baked cookie will lead to a soft and chewy cookie.
Do I need a stand mixer? Can I use a hand mixer or do it by hand?
Though a stand mixer definitely makes things easier, you can certainly make this recipe using a hand mixer or by hand with a wooden spoon or spatula. The only thing I would suggest is to cut the butter into 1/2-inch cubes and letting the cubes of butter sit in the bowl for 10 minutes or so to warm up.
A stand mixer has a strong motor that can cream and mix the cold butter but a hand mixer (or a your arm) isn't quite as powerful. Allowing the butter to warm up slightly will help you out immensely when making this dough without a stand mixer.
If you like these sourdough chocolate chip cookies, check out my other chocolate chip cookies
Print
Sourdough Chocolate Chip Cookies
These rich and complex flavored chewy chocolate chip cookies has a slight tang to it because of the sourdough starter discard used in the dough. Don't skip the step where you rest the dough in the refrigerator for 2 days. It's required to let the sourdough flavor to develop as well as let the rolled oats absorb the extra liquid from the starter discard, leading to a chewy cookie and not a cakey one.
Keyword
chocolate, cookies, sourdough
Ingredients
1

cup

unsalted butter

2 sticks or 230 g

1

cup

packed dark brown sugar

220 g

1/2

cup

white sugar

100 g

2

teaspoons

vanilla extract

1

teaspoon

baking soda

1

teaspoon

kosher salt

1/8

teaspoon

grated nutmeg

optional but recommended

1

large egg

2

cups

all-purpose flour

280 g

1 1/2

cups

thick cut rolled oats

170 g

2

cups

chopped chocolate

or chocolate chips, 380 g
To finish
1/2

cup

chopped chocolate

optional

1

tablespoon

flaky salt

like Maldon, Sel de Gris or Diamond Crystal Kosher, optional
Instructions
Cut the butter into 1/2-inch chunks and place it in the bowl of a stand mixer fitted with a paddle attachment. Add the brown sugar, white sugar, vanilla, baking soda, salt and nutmeg. Mix the ingredients together until they become a creamy paste that clings to the side of the bowl.

Scrape down the sides of the bowl and add the egg. Mix to incorporate. The mixture might look a little "broken" but don't worry about it. Scrape down the sides of the bowl again and add the sourdough starter discard.

At this point the mixture will definitely look broken, but again, that's normal.

Add the flour and mix together, turning the mixer on and off again in bursts, until the dry ingredient is absorbed. Repeat with the oats. Stop the mixer and scrape down the sides and bottom of the bowl between additions.

Add the chopped chocolate and mix together with a wooden spoon or spatula by hand. You can also use the mixer, but I like to use a wood spoon or spatula because I have more control over making sure the chocolate is mixed and evenly distributed in the dough.

Place a large piece of plastic wrap on your table or counter and scrape the dough onto it. The dough will be very sticky. This is normal! Once all the dough is on the plastic wrap, place another piece of plastic wrap over it, and press down all over, until it is a uniform 1-inch thick piece. Tightly seal and wrap around the edges with the overhanging plastic wrap, and then put on a baking sheet or cutting board and store in the refrigerate for 48 hours (2 days). This allows for the sourdough discard to grow a little in strength, as well as the oats to absorb the excess liquid from the discard.

Once the dough has chilled in the fridge for 2 days, preheat the oven to 350°F. Line two baking sheets with silicon baking sheets or parchment paper. Break off a piece of dough and form a 1/2-inch thick disk that is about 1-inch in diameter with your hands. You can also form balls, then press down, but I like to do thick disks as this encourages a thick round cookie shape. If you have a scale, it should be about 2 1/2 ounces or 70 grams. Place on the prepared baking sheet.

Repeat this process until you have about 5 or 6 dough disks on both baking sheets, leaving about 2 inches between each cookie. Push a couple of pieces of chocolate chunks on top of the disks, then sprinkle a pinch of the flaky salt over the disk.

Bake in the oven 13 to 15 minutes, or until the edges of the cookie are golden brown. Rotate the pans front to back and top to bottom if your oven has hot spots. You want the center of the cookie to be slightly underbaked, as they will set up as they cool. If you are baking with parchment paper, start checking the cookies around 11 minutes, as they bake faster.

Repeat with the remaining dough. Let cool on the baking sheet for about 5 minutes, then move them to a wire cooling rack to finish cooling completely.
The post Sourdough Chocolate Chip Cookies appeared first on Eat The Love.