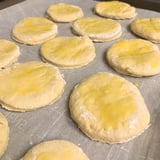 I've collected a small repertoire of recipes under my apron over the years, but the other day I felt like trying something a little out of my comfort zone, so I boldly attempted to make Joanna Gaines's JoJo Biscuits. Although I haven't yet made the trip to visit the former Fixer Upper host's Magnolia businesses, her infamous biscuit recipe has stirred up quite a delicious reputation in the baking community, so I thought, why not?
First off, set aside an ample amount of time, as the suggested overall prep time is a little misleading (you'll see what I mean later on). Next, if you're chilling in the beginner level of baking like me, you might not have all the necessary tools at your disposal. But don't sweat it! This just means we have to get a little creative. In the end, my hands and arms were a tad sore the following day, but it was so worth it for those little buttery, fluffy bites of heaven.
Keep reading to see how I adapted the recipe, which is available in her Magnolia Table cookbook.
The recipe calls for a pastry cutter, which I don't have. However, I was able to substitute by using a knife to single-handedly cut the butter into the flour. If you go this route, add 30 minutes to your overall preparation time. At least you'll be able to say you got in an arm workout for the day, right?
You'll notice in the recipe that it suggests adding a tablespoon of buttermilk to create a sticky consistency. I ended up having to add two tablespoons. I only kept the dough refrigerated for 40 minutes, but I'm intrigued to see if the biscuits would taste differently if I kept them in overnight. If you plan to do so, keep in mind this will count toward your overall prep time.
I'm a little embarrassed to admit I don't have a cookie cutter, but I was able to use a small cup! See what I mean about having to be creative? It works just as well. To help separate the pieces from the outskirts, I'd recommend sprinkling flour on top of the dough. This will give you a better grip.
Joanna Gaines's JoJo's Biscuits
Magnolia Table
Notes
For longer storage, place biscuits about 1/2 inch apart on baking sheets lined with parchment paper and place in freezer until solid. Once frozen, transfer to an airtight container. Freeze for up to two weeks. You don't have to thaw biscuits before baking.
Ingredients
4 cups self-rising flour (plus more for working space)
2 tablespoons baking powder
1 teaspoon baking soda
3 sticks unsalted butter (cold and cut into 1/2 inch pieces)
2 large eggs beaten
1 large egg for brushing
1 1/2 cups buttermilk
1 tablespoon buttermilk for brushing
Directions
In a large bowl, whisk together dry ingredients including the flour, baking powder, and baking soda. Add butter and use a pastry cutter to cut the butter into the dry mix. Pieces should be mixed in well and small, the size of a pea.
Stir in beaten eggs with a wooden spoon. Then, stir in buttermilk until dough becomes a sticky mass. If dough is too dry, continue to add an extra tablespoon of buttermilk until it reaches a sticky consistency. Cover bowl and refrigerate for at least 30 minutes or up to overnight.
Preheat oven to 400°F and position rack to center of oven. Line a baking sheet with parchment paper.
Sprinkle flour on a working space and your hands. Scrape and press dough onto surface and stretch it to roughly 14 inches across and about 1/2 inch thick. Make sure it's not too thin or else dough will break.
Use a 2 3/4 inch round cutter to cut out about 20 biscuits. Between each cut, dip cutter in flour. If necessary, collect and repeat step four with scraps to cut more biscuits.
Gently place biscuits on baking sheet; arrange them so they all touch.
In a small bowl, beat together an egg and tablespoon of buttermilk. Brush mixture on the top of each biscuit.
Bake for 15-20 minutes or until tops are golden brown. Let them cool for a minute or two in the pan on a rack.
Serve with fresh jam, gravy, butter, or honey! Store biscuits in a tightly covered container at room temperature for up to two days.
Information
Yield

20 biscuits

Prep Time

1 hour

Cook Time

15 minutes

Total Time

1 hour, 14 minutes, 59 seconds