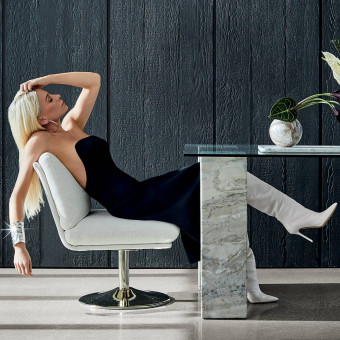 You've probably seen Jennifer Fisher's signature paperclip-like links and elegant dog tags on the chicest people you know and thought to yourself, Très à la mode. So, when we heard that Fisher was tapped to create a "fashion-forward, yet functional" collab with CB2, we jumped at the chance to grill her about her best interior-design tips. As it turns out, she jumped at the chance to team up with CB2. "I get offered a lot of collaborations," Fisher tells us. But for this one, she was given complete creative control, and she took the opportunity to create exactly what she would want to have in her own home.
Though Fisher didn't want to bring exact details from her jewelry to her just-launched CB2 line, she "took themes from [her] jewelry" to create the 100-plus piece collection, which includes everything from a sophisticated dog gate (yes, we thought it sounded impossible too) to a ping-pong table that doubles as a dining room table or desk. Throughout the collaboration, subtle elements hark back to Fisher's jewelry without being too literal.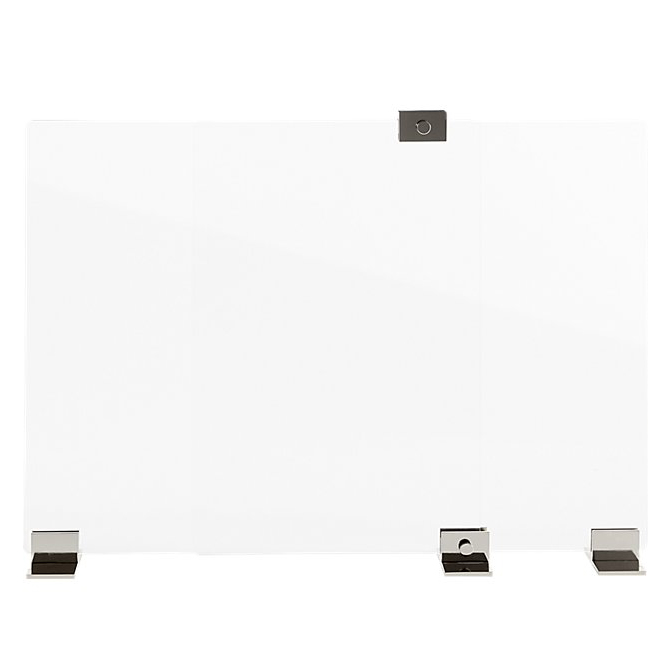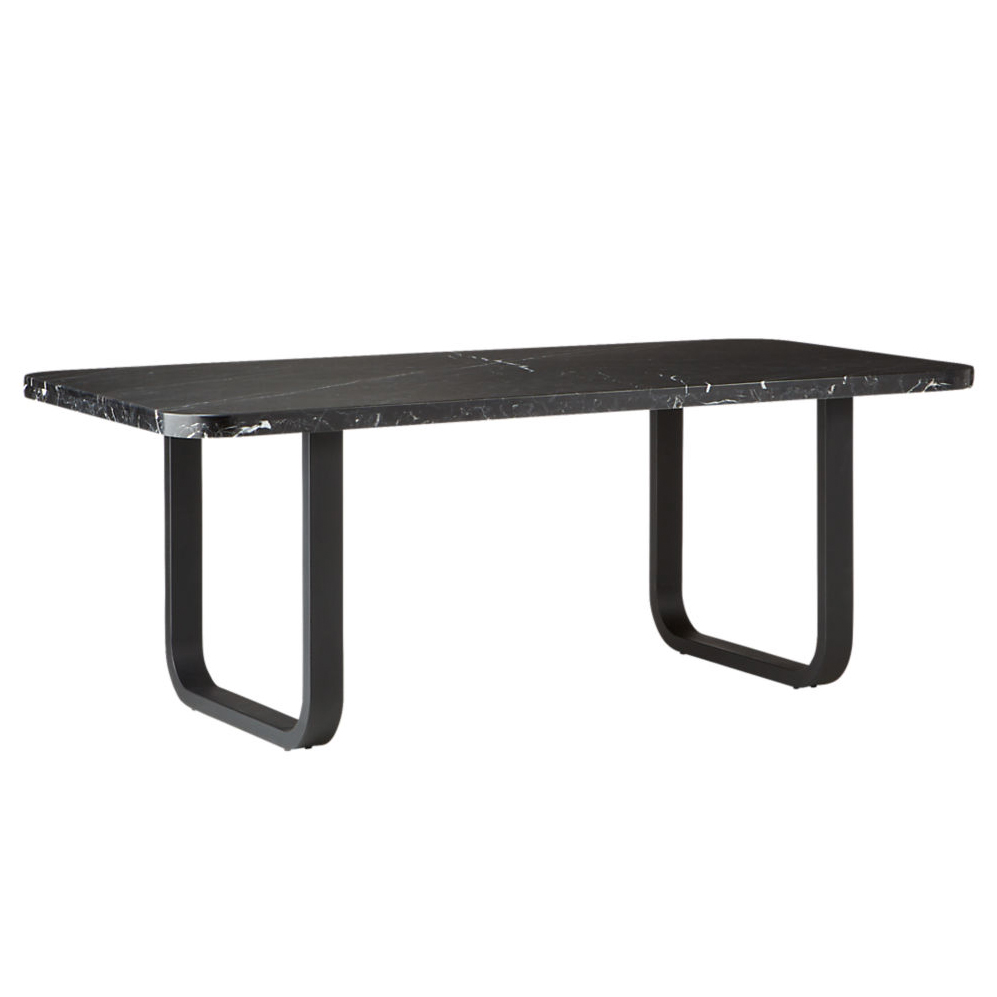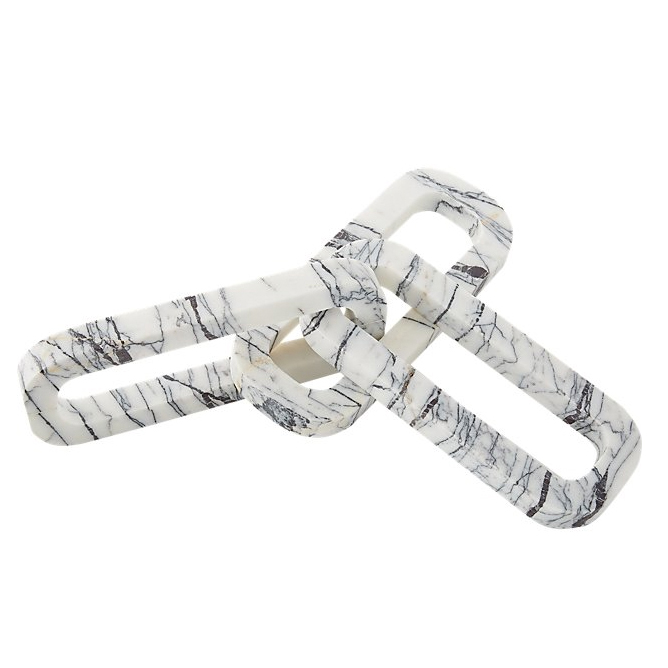 For example, Fisher designed marble chain-link "objects," as she calls them—small, eye-catching sculptures, to be placed around one's home for a little extra interest. If you're in the market for a single piece of decor to increase your living room's cool factor, this is one option. Her aluminum bookends, a U-shaped marble sculpture, and a marble table lamp were inspired by her Samira hoop earrings, and even the legs of the ping-pong table give a direct nod to her chain necklaces.
Ahead, Fisher shared with us the easiest ways to elevate your interior game without stressing out—or emptying your wallet.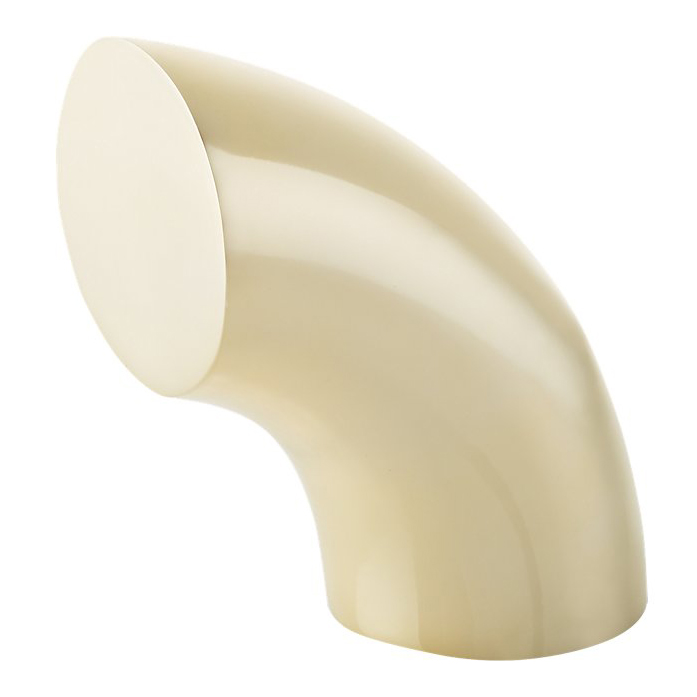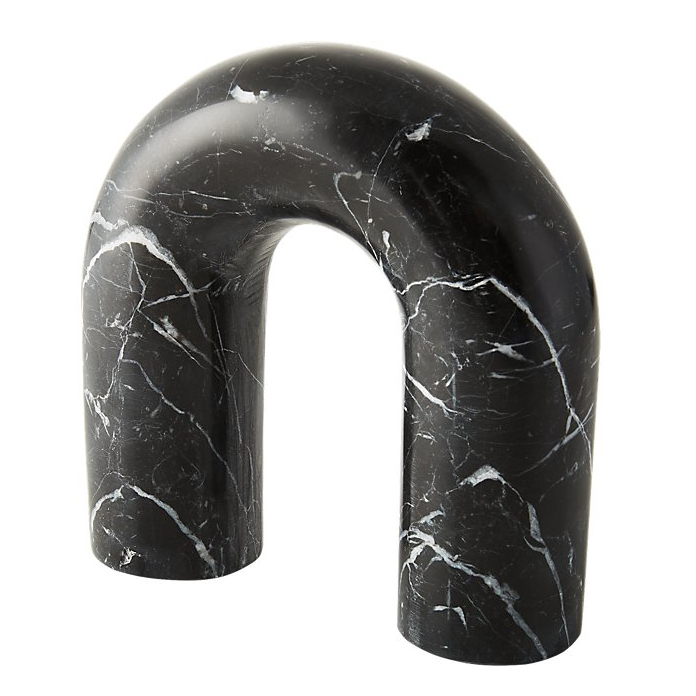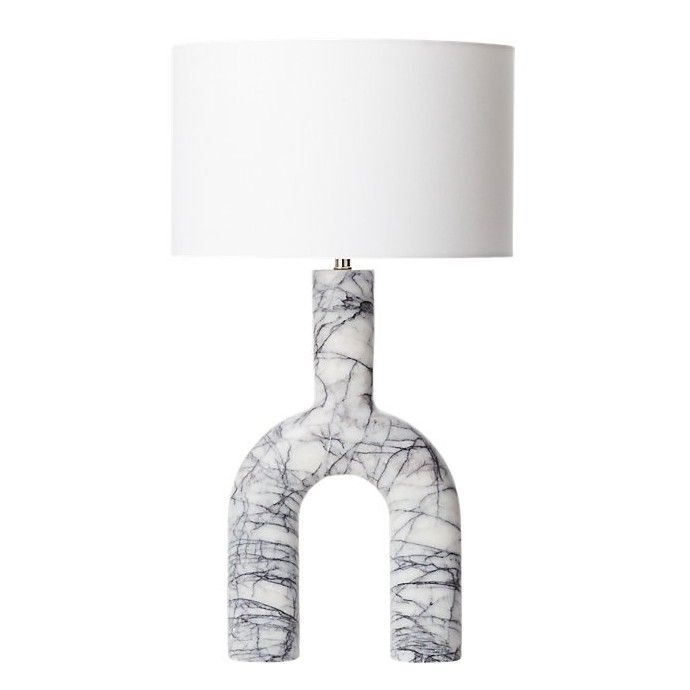 Pull Out the "Invisible" Rack
Fisher, a former stylist, is well aware of the need to have an extra wardrobe rack set up in one's bedroom from time to time. "My husband was always like, 'Can you please put that thing away?'" she says, laughing. Ever the creative, Fisher dreamed up the perfect solution: "I made a chic, clear wardrobe rack that you can keep out." Not only that, it rolls, "so you can put it in your living room if you have a dinner party" and hang coats on it, she adds. Problem solved.
Punch Up Your Jewelry Storage
This is a CB2 collab by a jewelry designer, after all. So, of course, Fisher created a jewelry tower. "People ask me constantly how I store my jewelry," she said. She doesn't just keep jewelry in hers, though. She also keeps one by her bed, for her "pre-bed ritual." In it, she keeps her bedtime essentials: "hand cream, CBD." Organization all day—and all night.
Keep a Salt Cellar on Your Counter
A black Marquina marble salt cellar is a surefire way to make your kitchen feel fancier—even if you're living in a tiny apartment with two roommates. (We've been there!) Anyone who follows Fisher on Instagram knows that she doesn't just design jewelry—she's also a kitchen extraordinaire, and has her own line of seasoning salts. "I cook constantly," she says. Having a fully functional kitchen is key—and this lil' salt dish is, uh, the sprinkle of curry salt on top.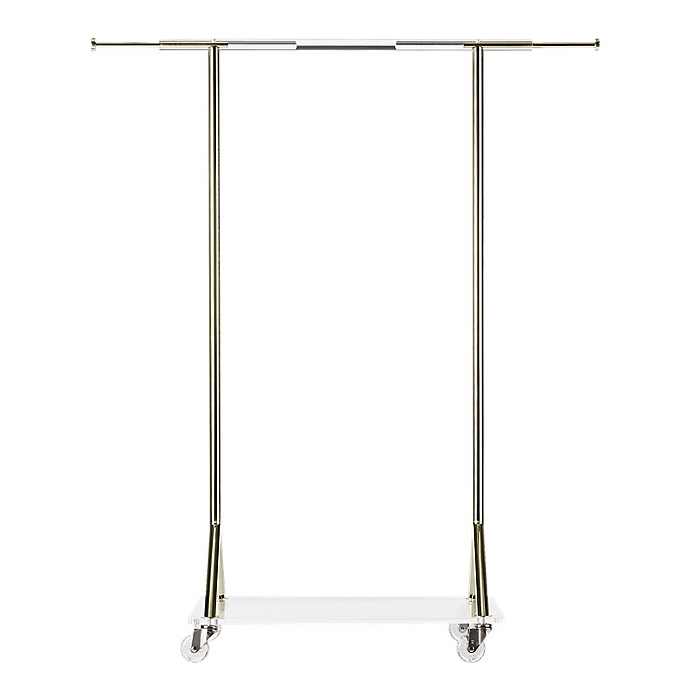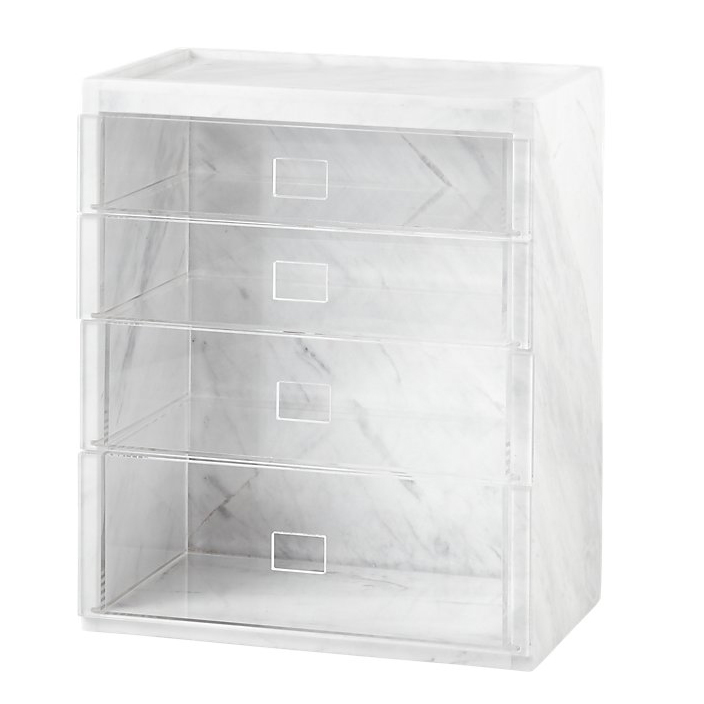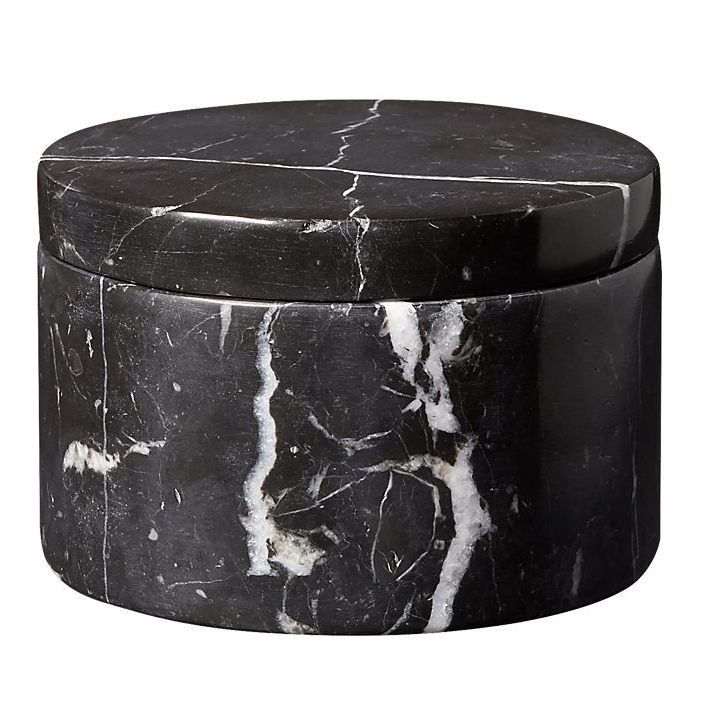 Throw Down a Match-Everything Pillow
If you have just $50 and you're in the mood for a quick fix, Fisher says one particular pillow can transform a space. Her "tie-dye gray-black-brown-purple-blue, universally monochromatic" pillow "mixes in with a colorful or neutral sofa," she says. The best part: The designer has already gotten feedback on social media from one happy customer, who said, "I just changed my living room by adding your pillow."
Level Up Your Kitchen
"I have a ton of white plates," Fisher admits. Since she designed her collection around things she wished she had herself, she made swirly clay-porcelain dinner and salad plates to add a touch of design to the average meal. She also loves the handle-free coffee mugs in the same color scheme.
Incorporate the Table to End All Tables
At $1,699, the ping-pong-table-cum-dining-room-table-cum-desk is a commitment. But it's worth it, Fisher says. "I really wanted everything to feel like it wasn't just single-use," she says. "And I really wanted to make a ping-pong table." So, instead of making something obviously created for table tennis, Fisher designed a piece of furniture that could just as easily work as an everyday table—though, when friends come over, the net and paddles can be added without fuss.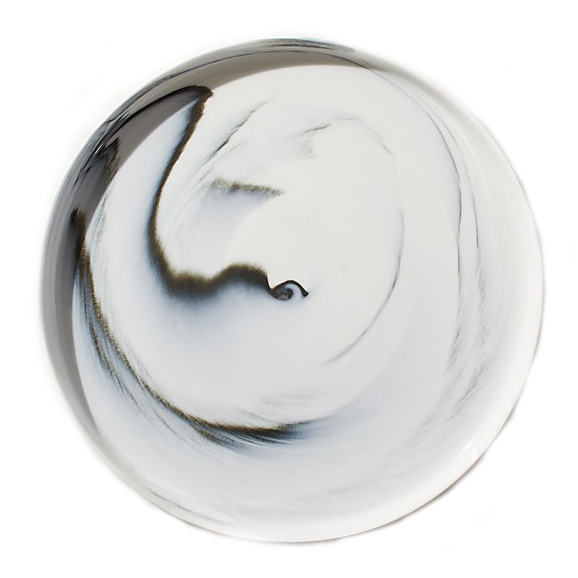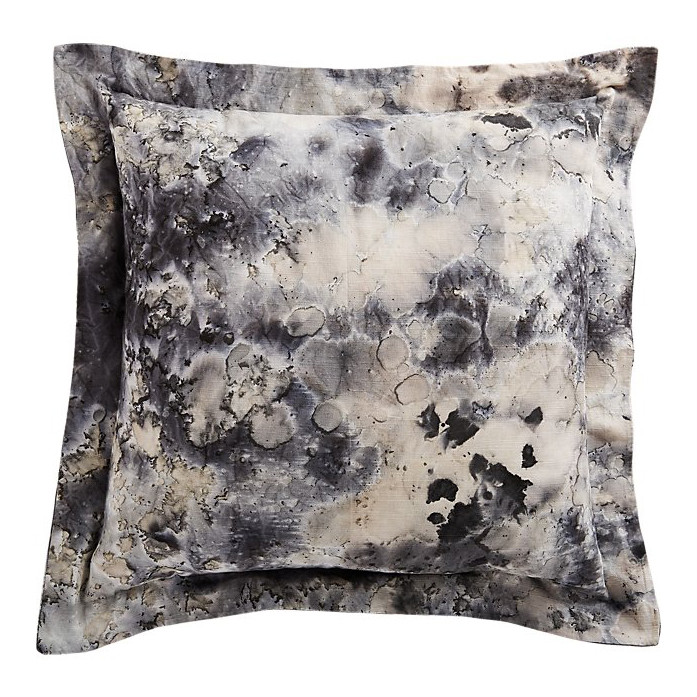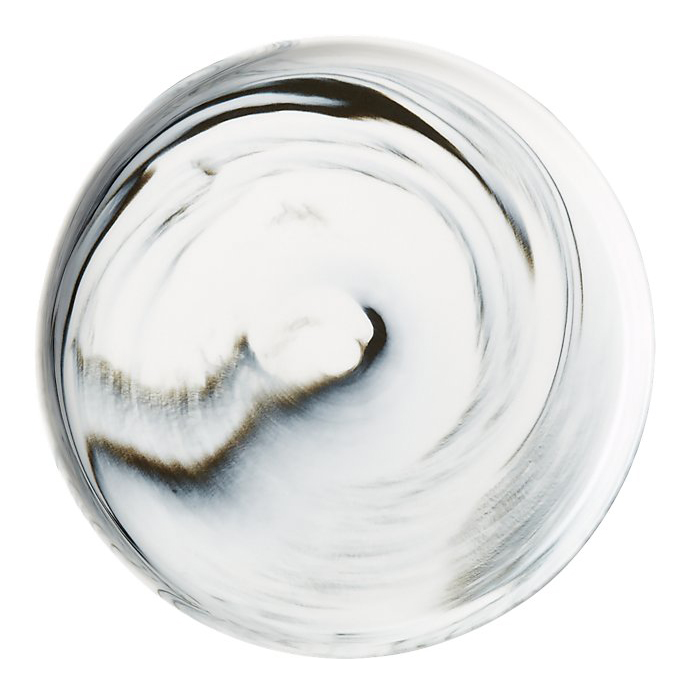 Consider a Corduroy Pouf
When was the last time you said, "I could really use a corduroy pouf"? Never? Yeah, same. But Fisher has somehow created a pouf in thick, white cotton corduroy that just might make your house or apartment feel more elegant. And it's not only a seat: "You can move it around your house," she says. "The cream corduroy matches everything. You can put a tray on it as a coffee table, or use it as a footrest."
The bottom line: Whether you're in need of a quick fix in the way of a cheap yet elevated item, or you're ready to pull out the big guns, a little flair goes a long way. And if you keep an eye out for the elements that match your style already, you can't go wrong.
"I make things I want," Fisher says. "No one needs a $3,000 marble vase. I get the high-design thing, but at the end of the day, we all want to adorn ourselves and decorate without breaking the bank." The ever-practical designer knows what she likes—and if you're anything like us, you'll probably like what she likes too.
Photo: Courtesy of CB2
Want more stories like this?
How Jennifer Fisher Packs Her Jewelry
Modern Tricks for Bringing Spring Inside Now
5 Ways to Update Your Space According to Fashion's Favorite Decorator