Ladders are one of the biggest and most cumbersome things you can store in your garage. Personally, I use my stepladder so infrequently, I wanted a better way to store it out of the way.
Before I start talking about the best ways I've found to store a ladder in your garage, let's gets some important stuff out of the way first.
Because whether you're going to hang your ladder from the wall or the ceiling, you need to know how much it weighs first, right?
How Much Does A Ladder Weigh?
Ladders probably weigh more than you think they do.
I did a little research with Werner's Ladder Cross Reference Guide (pdf source) to get an idea of an average weight across their entire model range. As you can imagine, a ladder's weight depends on what it's made of and how big it is.
For example, fiberglass ladders weigh more than a comparable aluminum ladder because they're more sturdy. Similarly, longer extension ladders will weigh considerably more than a small stepladder because it needs to be structurally sound over a longer length.
What I found was that a typical 6′ tall stepladder weighs between 15 lbs and 23 lbs. A 28′ extension ladder, which is tall enough to reach the roof of a two-story house, can weigh between 56 lbs and 67 lbs.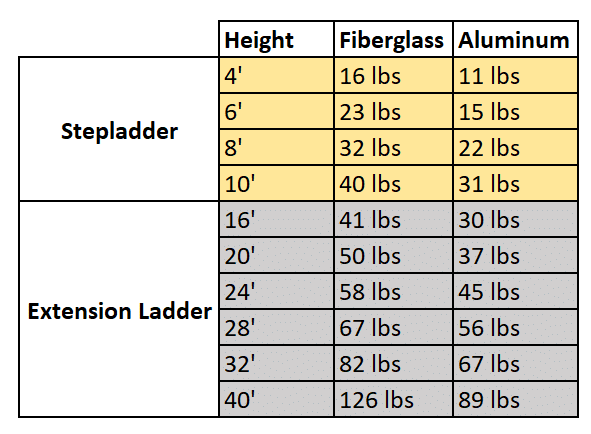 That's a lot of weight to be hanging from your garage ceiling, depending on what type of roof structure you have. I discuss how much weight you can hang from your garage ceiling in more detail in this article.
If you're thinking of adding overhead garage storage down the road, you need to be careful not to overload the structure of your house. The last thing you want is to have your ladder come crashing down on your car in the middle of the night.
How should ladders be stored?
There's a lot that's written on ladder safety, but very little on actually storing your ladder once you're done with it.
Ladders can be stored either vertically or horizontally. There's no real difference according to several manufacturers. However, there are a couple of things that you shouldn't do when storing your ladder:
Don't store your ladder outside in direct sunlight
Keep them away from heat sources and moisture
Makes sense right? You don't want it to warp from the heat or get moldy from excess moisture.
You should store your ladder flat, folded shut and evenly supported. Beyond that, storing your ladder really depends on your garage layout.
The best-case scenario is to store your ladders vertically on their feet, leaning against the wall, or horizontally flat along the floor. This doesn't put any undue stress on either the rails or the rungs. (pdf source)
Most people only need their ladder a few times a year, so they go with the more convenient options. There's nothing wrong with that.
Let's talk about some of those options now.
Testing the Best Ladder Hooks and Hangers
As I've been upgrading my garage, I've tried to get as much hands-on experience with products as possible.
Similar to the process I used for my Best LED Shop Lights roundup, I wanted to get some hands on experience with these ladder hooks and test them out myself.
I purchased five of the highest rated ladder hooks and hangers on Amazon at full retail price. No product was provided by the manufacturers and nobody is paying me for this review. The goal was simply to find out which of these ladder hooks would work best in my garage.
With that out of the way, this comparison contest is set up a little differently than some of my other articles.
I use both the Gladiator GearTrack and Rubbermaid FastTrack in my home, so I wanted to see how their ladder hooks performed.
However, I'm going to list those separately. If you have one of these wall storage systems and want to hang a ladder on it, your options are pretty limited.
I'll include the Gladiator and Rubbermaid hooks separately at the end. Let's get started!
Best Standalone Ladder Hooks
My Choice: Racor PSM-1R Ladder and Wheelbarrow Hanger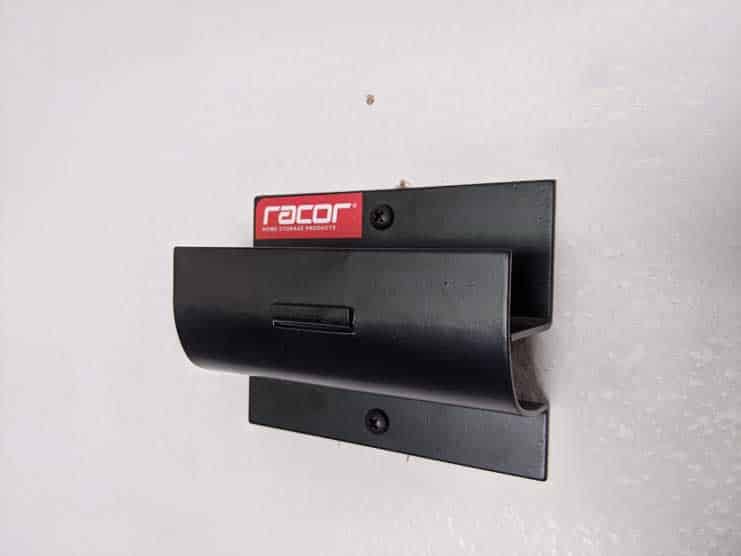 I've got to admit, I didn't have high hopes for the Racor PSM-1R ladder hanger. It seemed really basic compared to some of the others I was tested, especially the Little Giant hanger.
After using it, that's what I liked the most about it.
First things first: The Racor PSM-1R is made of durable, black power-coated steel. Overall dimensions are 4.35″H x 4.95″W x 1.70″D. That means it's a sleek, low profile ladder hanger that won't look out of place, no matter what style you're going for in your garage.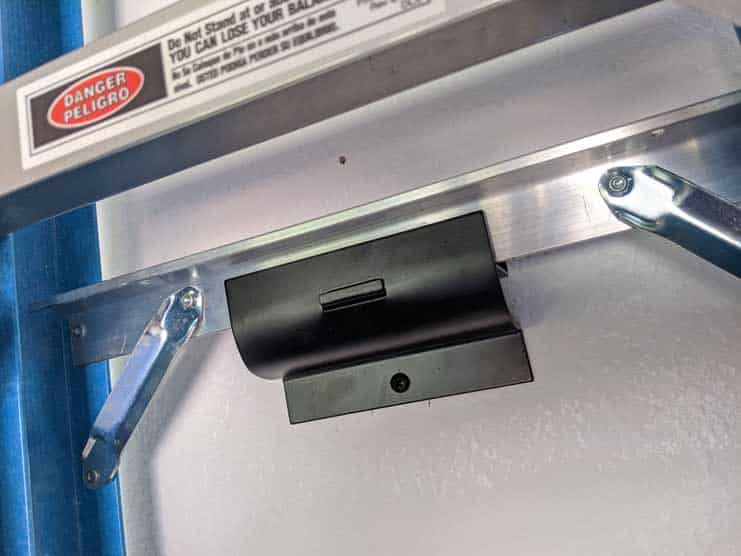 It installs quickly into a single wall stud and can support up to 50 lbs. That will be enough for any of the most popular sizes of aluminum or fiberglass stepladders.
Once installed, the ladder fits snugly on one of the metal rungs and doesn't slide around.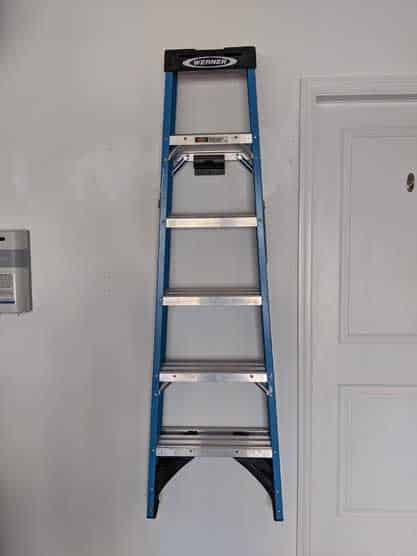 I'm a minimalist at heart, and what I love about the Racor PSM-1R ladder hanger is that it doesn't take up any more space than it needs to. It almost looks like the ladder is floating on the wall.
I also like that it's powder coated in basic black, so it'll go with whatever color scheme you paint your garage.
Tornado L2000 Zinc Ladder Hook
Tornado, which oddly enough is also a Racor product line, has several different types of ladder hooks. The best of the bunch is the Tornado L2000 zinc ladder hook.
Let me start off by saying that the Tornado L2000 actually comes with TWO ladder hooks in the package, which helps justify the price. At the time of this writing, it can be found on Amazon for around $25 for the two-pack.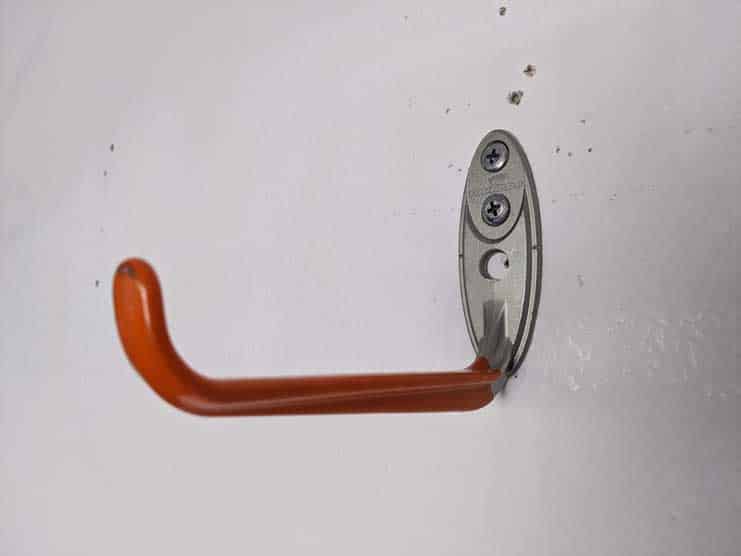 What I like about the Tornado hook is that it has the highest weight capacity of any hook I tested. It'll hold up to 40 lbs when mounted into drywall by itself. Increase that to 60 lbs when mounted into a wood stud with drywall over top and up to 70 lbs when mounted into a wood stud by itself.
That's per hook. So if you have a 40′ fiberglass extension ladder, you can easily hang it on these hooks if the weight is distributed evenly!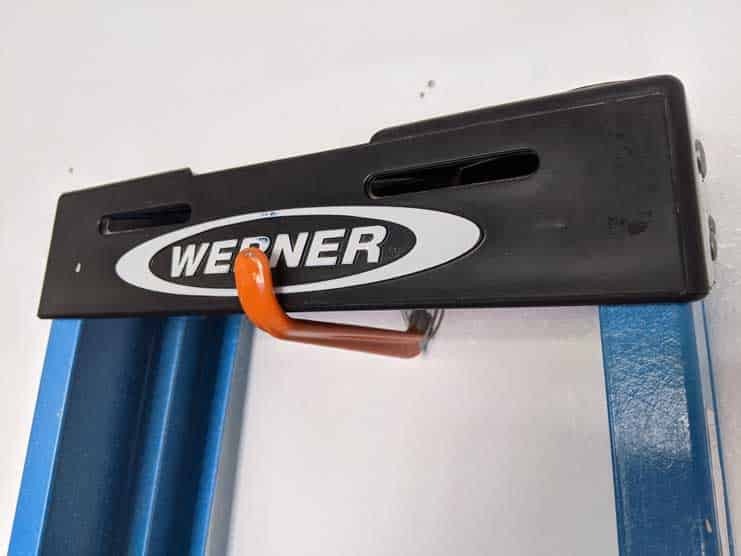 The hooks themselves (remember, two of them come in a pack) are 7″L x 5″H x 1.5″W. Each is made from molded zinc with an orange rubber coating that covers most of the hook.
Installation is easy and the mounting screws are included. The screws are a combination anchor and screw which really makes the hook feel secure. I only used two of them in my installation and it was still rock-solid.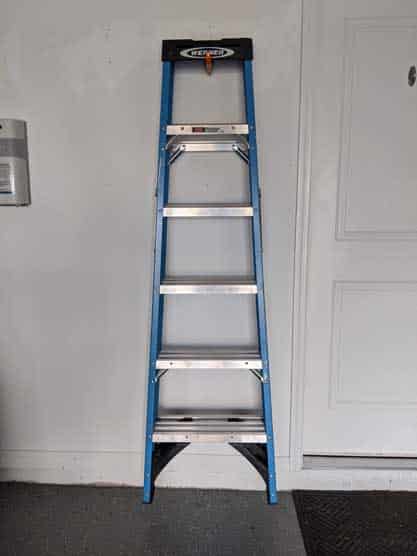 I only have two complaints about the Tornado L2000 ladder hook, and I'll admit that they're both really minor.
In my case, the corners of the top of the ladder were rubbing against the wall. So they were also supporting the weight of the ladder. I could see this damaging the wall if you're not careful.
Also, the orange rubber mounting deliberately stands out in your garage. It's great for adding a bit of cushioning to cut down on scratches. I know it's for safety, but I just wish it wasn't as bright a color.
Little Giant Ladder Rack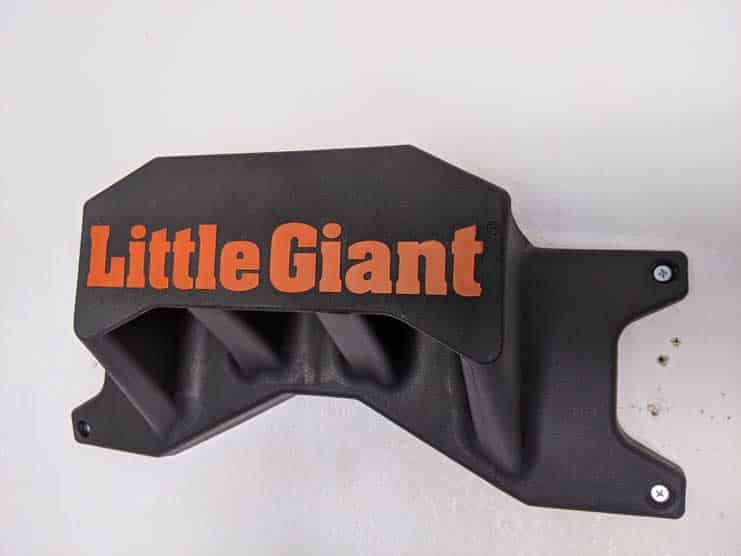 If the Racor PSM-1R was subtle and minimalist, the Little Giant Ladder Rack is the exact opposite. This ladder rack is an absolute beast at 17 inches wide, 7.6 inches high and 4.5 inches deep!
With all that size, you'd expect a higher weight capacity and you'd be correct. Because it's wide enough to mount into two wall studs, it has a weight capacity of up to 75 lbs.
That's good because Little Giant ladders aren't known for being light.
All you need for installation is a Phillips head screwdriver. There's no option for mounting directly into drywall, however. The only screws included are wood screws so you can mount into your wall studs.
The one big drawback is that the entire unit is made out of molded plastic, not metal. That's not to say that it doesn't feel sturdy…it does!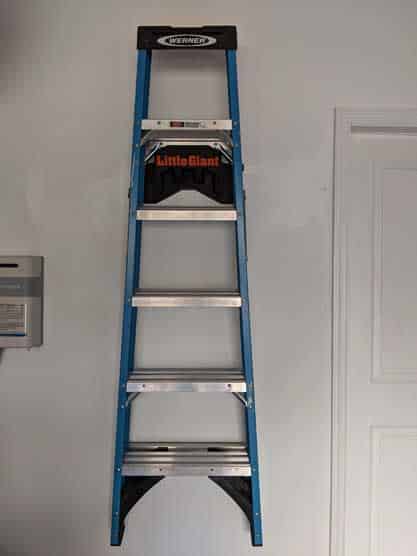 But considering that the Little Giant Ladder Rack is the most expensive mount I tested. I've got to be honest, it left me feeling it was a bit overpriced. This is especially true when compared to the Racor PSM-1R.
Overall, it's nice if you want a branded hanger for your Little Giant ladder, but other than that, I feel there are better options.
Best Ladder Hooks for Wall Storage Systems
This section's going to be a little different. Here it really depends on what wall storage system you own and if you want to store your ladder on them.
Personally, I've got both the Gladiator and Rubbermaid systems in my home. They're just installed in different places.
The Gladiator GearTrack and GearWall system is installed in my garage and I've got the Rubbermaid Fasttrack installed in my laundry room.
So I'll talk about each of their ladder hooks separately down below. But unlike the previous section, this isn't going to be in any particular order. It all depends on what system you have.
Gladiator Deep Hook
The funny thing is that this entire project started when I realized that I was using the wrong Gladiator hooks to store my ladder.
I was using the Twin Hooks to hang my ladder horizontally on my original GearTrack installation. It worked, but it never felt really secure.
Hanging a ladder on it's side has it's pros and cons.
Two ladder hooks will distribute the weight will be more evenly so each hook won't need to be as sturdy. However, because it's stored on it's side, it'll appear to take up more space in your garage.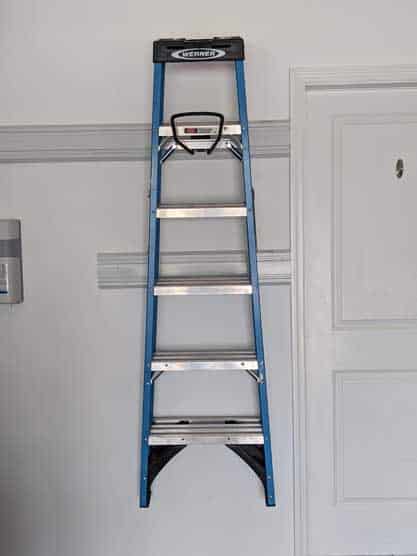 With the new Gladiator Deep Hook, I can free up that entire track and store my ladder vertically, which I like.
There is a big downside, however. The weight capacity for the Gladiator Deep Hook is only 30 lbs. That means it's not sturdy enough for anything larger than an eight foot fiberglass ladder.
For this particular Werner stepladder, it was enough…but only barely. Keep that in mind if you're considering the Gladiator Deep Hook. It's a great option that works with your existing Gladiator system, but there may be better options.
Rubbermaid FastTrack Ladder Hook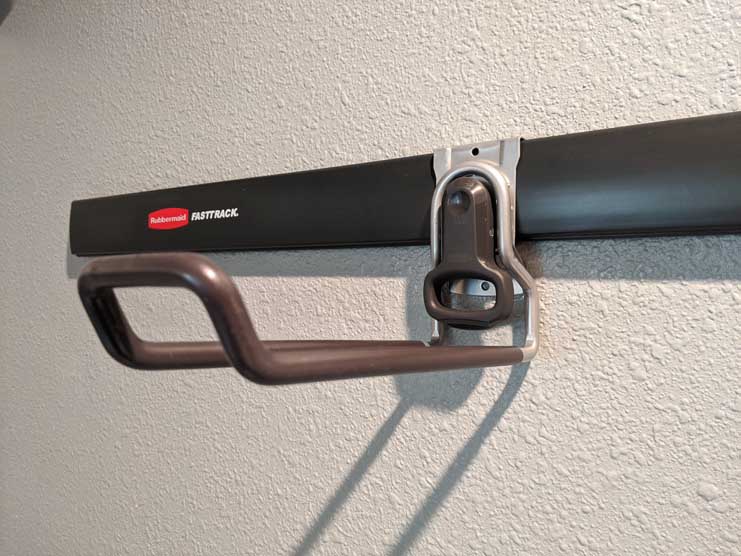 The Rubbermaid FastTrack Ladder Hook is another great option if you want to store your ladder on your Rubbermaid rail system.
The FastTrack rails have a higher overall weight limit than the Gladiator's, due to the heavy-duty steel rail design. That ups the weight limit of this hook to 50 lbs.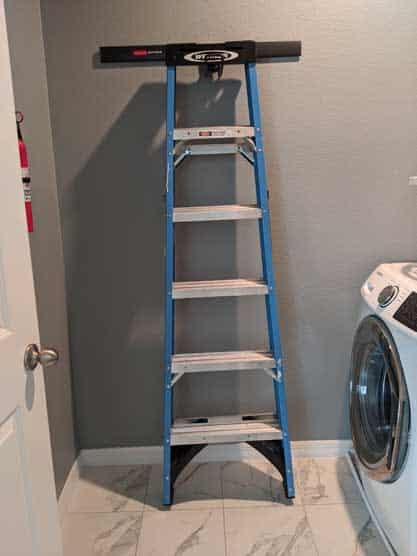 I use the Rubbermaid FastTrack system in my laundry room, so the ladder looks a bit out of place here. Still, the hook does the job and keeps the ladder securely in place.
For larger extension ladders, the higher weight capacity means you could distribute the ladder's weight evenly among several rails. All things being equal, I think the Rubbermaid's design makes it a great choice to store a ladder in your garage or inside your home.
How do you hang a ladder on the ceiling?
I'm not crazy on ceiling storage for ladders. Call me crazy, but you shouldn't need a ladder to reach your ladder.
However, for many people, storing your ladder on the ceiling makes a lot of sense. It gets your ladder out of the way and saves a lot of valuable wall and floor space.
If you're the DIY type, there are numerous videos on YouTube that go through the process of building your own ladder storage rack.
I really like April Wilkerson's short how-to video. It's a really quick, inexpensive project that's easy to follow along.
If you're not that handy with a circular saw, or just want something more professional looking, there are some other solutions that you could try out.
One ceiling ladder rack that caught my eye was from StoreYourBoard.com. They make a variety of storage solutions for snowboards, surfboards, kayaks, and yes, ladders too.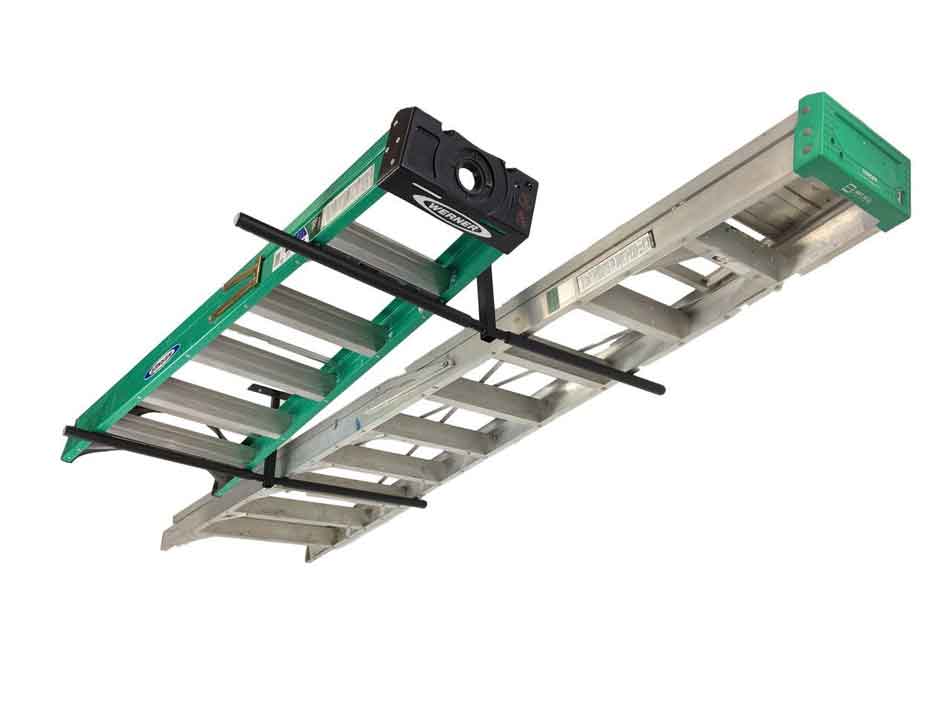 As I said, I'm not a big fan of hanging a ladder from your garage ceiling, so this isn't the right solution for me.
How do you store a large ladder in the garage?
A typical two story house would need an extension ladder that's between 24′ and 28′ in length. Those ladders would still be around 14′ long when fully collapsed.
That's a big item to try to store in your garage. If the typical American garage is about 22′ long, you're going to need over half of that just to store a single ladder.
To make matters worse, large ladders normally weigh between 50-75 lbs. That's more weight than I'd be comfortable hanging from my garage ceiling. It's also right at the maximum weight capacity for ceiling ladder storage solutions like storeyourboard's double ladder ceiling rack.
So what can you do?
For heavy large ladders, the best solution is to store them on your garage walls themselves.
Most of the ladder hooks and hangers I tested above could be used for ceiling storage. The hook with the highest weight capacity was the Tornado L2000. Each hook could hold up to 70 lbs if secured directly into a wood stud.
Two of those could easily hold most sizes of extension ladders on your garage walls.
How do you store a ladder outside?
You shouldn't.
No, seriously. Experts say you shouldn't store a ladder outside. Wood ladders can warp. Fiberglass can actually start to break down and disintegrate in a process called "fiber blooming."
Although aluminum won't rust, all of the metal and plastic components will degrade more outside than they would under cover.
While it's technically possible to store ladders outside, please don't. Ladders aren't cheap and you want to get a lot of years out of them.
Keep them inside where they belong.
The post How to Store a Ladder in Your Garage the Right Way appeared first on Garage Transformed.