There is something extra satisfying about a well-organized home. And that satisfaction extends well into the outdoors areas of the home – including the garage. If we were to tell you that there are ways to expand the square footage and organizational needs of your garage, would you go for it? Well, today is all about how to maximize that space and get the most out of every inch. Below are 7 of the overhead garage storage racks. Use them wisely, we promise you that they are worth it!
What Is A Overhead Garage Storage Rack?
Similar to a garage storage lift, these innovations are the perfect addition when you want to utilize an area of the garage that you may not have seen as useful before — the ceiling. These racks will help you store large, plastic tubs full of holiday decor, sports equipment, or even kayaks. Your corners will be cleared up and you will have even more space for your cars or other vehicles. Those larger, awkward items will be off the floor and stored away higher — until you need them down!
What Can I Use This Extra Storage For?
The possibilities for using this extra storage are endless! Do you have bikes you'd like to store away until spring or maybe a kayak or two? This is a great place to keep your holiday decorations hoisted until that time of the year starts to creep in – there are models that allow you to slide plastic bins in and out whenever you need them. You can even find storage lift systems that can hold outdoor furniture during off-season times. If it's taking up space in the nooks and crannies of your garage, then it's likely that you can organize it, tidy it up, and then hoist it into holding position until its time of need comes to call.
First on our list of awesome, garage finds is the FLEXIMOUNTS 4×8 Adjustable Overhead Garage Storage Racks. With these racks you will be able to avoid water damage and clear up some extra square footage in your garage. Your holiday decor, sports equipment, and other family this and thats will be tucked away safety and protected. The installation is easy and worry-free as well with its long ceiling brackets (attaching to two studs) and six vertical posts providing optimal structural foundation.
Don't worry though, installation comes with a step-by-step DIY guide! The customer reviews could not be more promising either. Between the price and the stress-free solution to an overflowing garage, it seems like this is really one of the best buys on the market.
Pros
More sturdy and stable than other designs
Easy installation and guide included
Completely adjustable
Cons
Some hardware needed to be resent
View price on

Amazon
Now we have the FLEXIMOUNTS 2-Pack Wall Shelf Garage Storage Racks to take a peek at. If you need a storage solution but one that isn't too large, this may be the pick for you. They come in a variety of sizes, depending on the size of your garage, and they come in black or white as well making them even more versatility.
The installation is doable for one person to tackle on their own (with all the hardware included) and the steel foundation helps to hold up to 400 pounds of product. They can also be secured to wall studs or concrete walls – which is so nice for those wanting to use them in business buildings.
Pros
Versatile installation
Color options
Easy installation
Cons
Large shelves made of smaller pieces
View price on

Amazon
The HyLoft 00540 45×45″ Overhead Storage Rack is a budget-friendly storage solution for those that want a quick, grab-and-go option. These hold up to 250 pounds of storage so you can organize your seasonal decor, luggage, coolers for summer seasons, and anything else you'd like to stow away.
It's been constructed with steel for a worry-free, sturdy foundation and it's height adjustable too so it becomes a versatile option for a variety of spaces. The hardware is included so you don't have to go on any extra shopping trips.
Pros
Budget-friendly
Holds up to 250 pounds
Hardware included for installation
Cons
Smaller design than predecessors
View price on

Amazon
The PHL-R Garage Ceiling Storage Rack Lift is exactly what it says it is – it is both a rack and a lift. This makes packing and storage a bit easier and a more luxurious purchase as well. Although it comes with a higher price tag, the extra money may be worth your stress and storage concerns.
The rack itself is completely adjustable to help fit your space perfectly and the steel frame will allow up to 250 pounds of storage possibility. Installation of this lift will help you create 16 square feet of extra storage space – who wouldn't want that?! Keep in mind that there may be a few extra steps in an at-home installation with this model.
Pros
Lift included
Holds up to 250 pounds
Steel construction finish
Cons
View price on

Amazon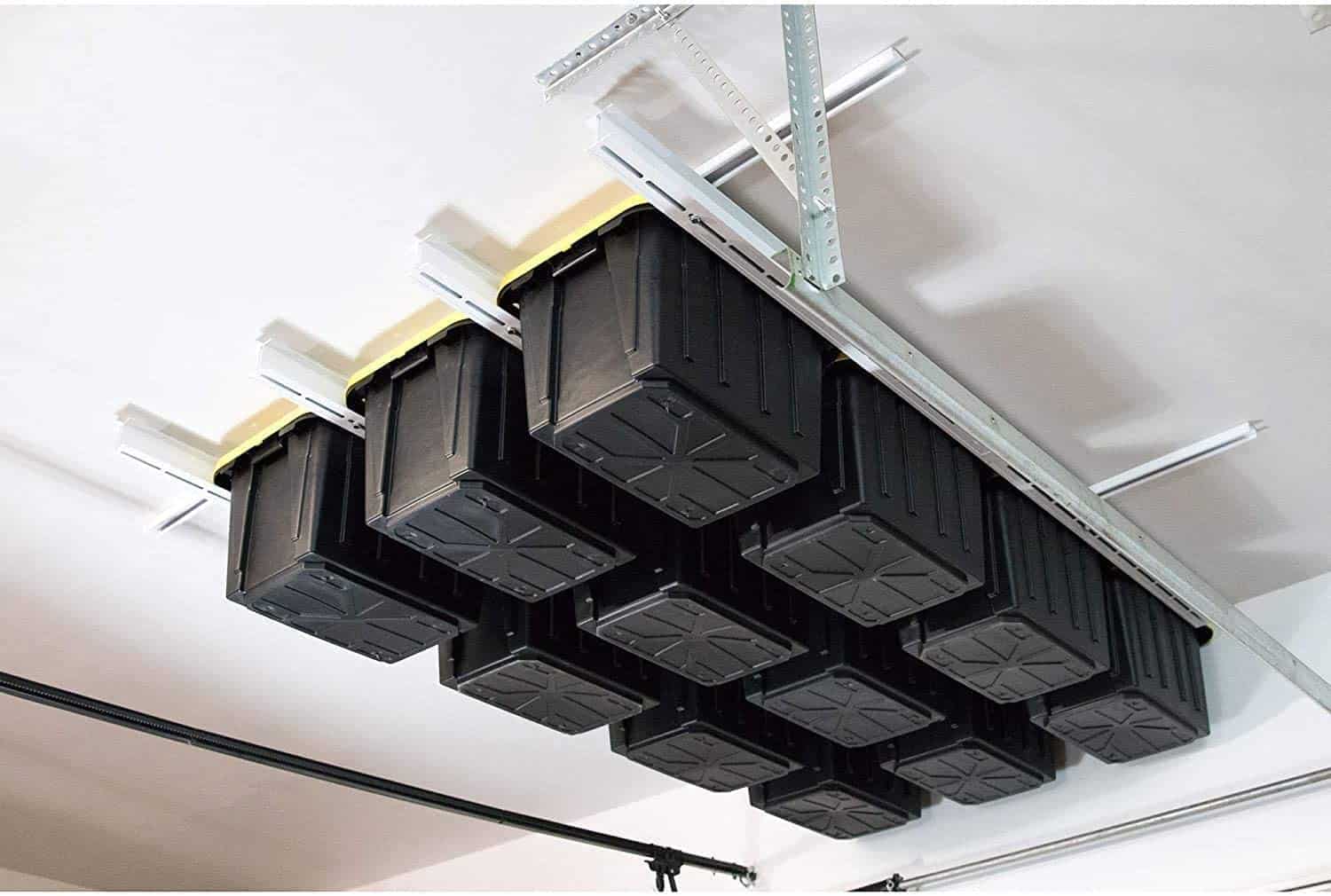 We are really loving the Heavy Duty Steel Overhead Garage Storage Rack as well. Why? Well, first of all, it will hold up to 13 storage bins or totes with ease. Just think of all the items you can store inside and get up off the floor! The lift itself is also made of steel so no flimsy plastic will warp and crack – the rails are adjustable too for versatile use.
Its slide storage system is what we have been browsing through all the blogs and magazine. It is one of the more satisfying of models and the best looking storage system around as well. And the best part? There's a lifetime warranty attached to the purchase.
Pros
Holds up to 13 bins/totes
Steel construction
Adjustable rails
Cons
View price on

Amazon
The HARKEN Cargo Box Hoist comes in a variety of sizes depending on your personal needs. It is a universal fit for all cargo boxes including Thule, Yakima, SportRack, and JEGS. This model makes everything a bit easier for you inside the garage – including organization and usability of the space. 
Although this one looks a bit more complicated, it is fairly easy to install with its four-point hoist kit that comes with with illustrated instructions and installation video. And it is also really simple to use. Its patented system lifts evenly regardless of weight distribution. As its description proclaims, "The self-locking cleat grips instantly to prevent accidental release if the rope is dropped."
Pros
Stainless steel construction
Size variety
Made in the USA
Cons
View price on

Amazon
And our last on the list is the FLEXIMOUNTS 4×6 Heavy Duty Adjustable Overhead Garage Storage Rack. Similar to its sister predecessor, with these racks you will be able to avoid water damage and clear up some extra square footage in your garage. Whether it is your seasonal, sports equipment, kayak, or family luggage – it will be protected and stowed away nicely. The installation is easy and worry-free as well with its sturdy foundation.
Don't worry though, installation comes with a step-by-step DIY guide with this model as well! And just like the larger rack we saw above, the customer reviews could not be more promising either. Between the price and the stress-free solution to an overflowing garage, it seems like this is really one of the best buys on the market.
Pros
Great price point
Multiple sizes
Easy, DIY installation
Cons
Waiting to be back in stock
View price on

Amazon
What To Look For When Buying Your Garage Rack
There are a few different areas you should be mindful of when you begin your garage storage rack search. Know your needs and what you plan to store before shopping and then check out these categories before you purchase!
Size & Capacity:
Of course you should have this in mind when buying. Something too small won't help you at all – and a device too big won't even fit and you will waste your time. Knowing what you need to store will help you find your perfect match. Make sure you buy a system that will fit nicely into your garage and not take up too much space or get in the way of garage door operation. You also want to make sure your garage ceiling can withstand the installation; lightweight models do exist so pay attention to weight capacity.
Some of the popular sizes include:
Motorized vs. Not:
You may find motorized racks. This helps with convenience of lowers and raising the bars but can be a bit pricier than a rack that you will have to manually remove and storage items from. The weight capacity of a motorized system can push up to 400 pounds as well and be a bit safer – have this in mind when shopping and what your needs look like beforehand.
Materials Needed & Installation:
Think about what your preference may be in terms of materials used to create the rack itself (consider price). Plastic is an option but so is stainless steel. This dictates the price, the lifespan, and the durability depending on the items that you plan on storing inside. The most population construction materials are steels and metals because its strong enough to support larger items (and no rusting!).
Conclusion
These types of garage storage racks make your home a bit more organized and a bit less cluttered. And that's why we did the homework for you. These easily stood out as some of the best garage storage racks your money can buy and the best in terms of customer reviews and satisfaction. It's time to clear out the clutter and learn to love the corners of your garage again!
The post Get It Organized: 7 Of The Best Overhead Garage Storage Racks appeared first on DIYs.com.