Off-road campers and trailers have come a long way in recent years. Hitch one of these behind your pickup and hit the rocky road less traveled.
While pop-up campers and teardrop pull-behinds are nothing new, more and more brands today offer off-road capable trailers. Unlike trailers of old, these rugged campers sport big all-terrain tires and plenty of clearance to get down logging roads and doubletrack.
We hit the Denver RV Show this winter to find some of the most rugged trailers of 2020.
Note: All prices listed below are MSRP.
This small trailer rocks 18 inches of clearance and Timbren independent suspension to get through the gnarliest of trails. And while it offers small interior sleeping space for two, it brings a lot of backwoods chops to the table.
It has a large awning, a CFX50 refrigerator, a pass-through toolbox, a roof rack with 500-pound capacity, and an instant hot shower. You also get a kitchen, furnace, and 100 W of solar power.
At 15 feet long, 7 feet wide, and 8.5 feet tall (pop-top closed), the Opus Caravan is not ideal for tight trails. But it does pack 265/75R/16 mud tires for decent clearance for fire roads and trails.
Inside, you can pamper yourself with a king-size bed and twin bunks. Bamboo interior cabinets, a gas hot-water system, and Dometic reverse-cycle air conditioning round out this pull-behind.
The iconic silver camping trailer got a lot smaller and more trail-friendly with the introduction of the Basecamp in 2016. It offers a convertible rear space that adapts for eating, sleeping, lounging, or storing gear. It even has an indoor kitchen, toilet, and shower.
Today, you can get the Basecamp X edition fitted with a 3-inch lift, good off-road tires, and stainless steel rock guards for even rougher roads.
The Bruder EXP-4 has a remarkably versatile air-suspension system that adjusts up to 12 inches. This allows the trailer to adapt to super-rough or rutted trails or steep side-hilling. It also permits instant leveling for setup on not-so-level ground. But while the suspension is slick, it's the foundation of an otherwise amazing small trailer.
The EXP-4 chassis is airtight and completely sealed. The undercarriage has rear recovery points and an optional WARN recovery winch. The chassis joins forces with the fully engineered EXP-4 body cell, which is made from lightweight composite material up to 60 mm thick — engineered to handle up to 10 times its own weight. It even has an R-value of over 5.1.
It's still a small trailer though, sleeping two with an outdoor kitchen built into the back.
Using an air frame and lots of fabric tenting, this 2,800-pound trailer pops open to sleep up to six people. But with a width of just 6'4″ and 12.4 inches of ground clearance, this independent coil-suspension trailer should go anywhere you want to drive most SUVs or trucks.
It rocks a 30-amp electrical system and is prewired for solar to power an included Dometic refrigerator. For cold weather, it has a 16,000-BTU propane heater. Add-ons include an instant hot shower, king bed extension, and awning annex.
Creative design underpins the Mantis trailer from TAXA Outdoors. With expanding panels, a pop-top roof, and ground clearance of 12 inches, the Mantis fits the brand's bill of unique, utilitarian portable homes.
The Mantis is 19 feet long and 7'6″ wide but still weighs in at a scant 2,882 pounds. It sleeps four adults and runs a propane furnace, cooking, and hot water systems. It's also prewired for solar panels.
The Sol Dawn has a simple, time-tested design. But its big windows and 12-inch ground clearance will make it appealing for those who want to drag it down rough roads.
At 16 feet long and with an interior height of 6'3″, it gives plenty of room for two adults on an extended adventure. And at a dry weight of 2,695 pounds, you can pull it easily even with a smaller pickup or SUV.
If the Sol is a little too "soft" for your taste, check out the Explore. A burly offering from inTech, the Explore rocks off-road tires. It's meant to sleep two to six people while functioning as a toy-hauler for things like motorcycles and ATVs.
And thanks to the tip-out bed, outdoor kitchen, and roof rack, it not only hauls a lot of gear, but it also offers a comfy place to call it a night.
The Classic 12 rocks and independent suspension and pop-up design at about 3,300 pounds for fairly easy towing. Black Series designed it with a family of three in mind. It carries a 16-gallon freshwater tank, a double bed and bunk, and a 5-year structural warranty.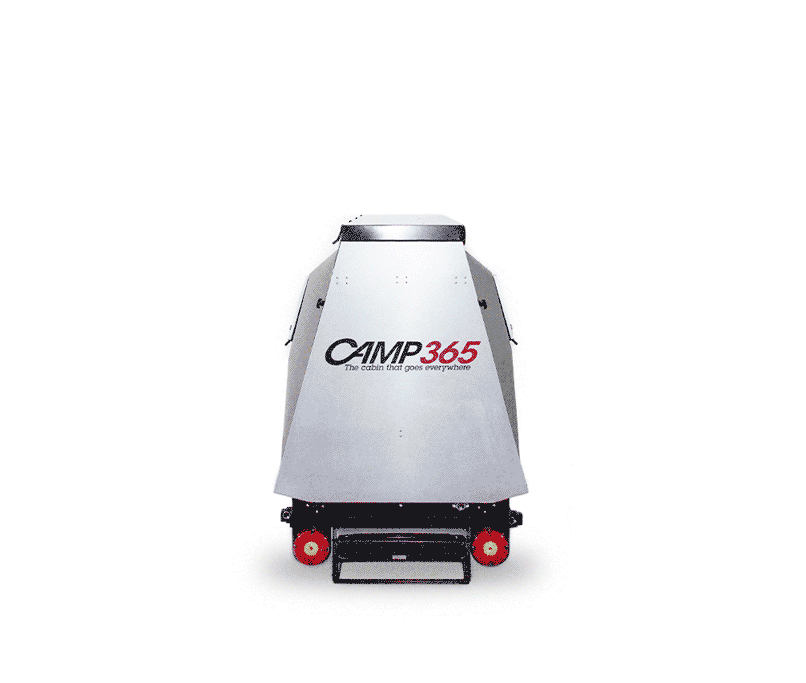 One of the most innovative camper designs we've seen in years, the Camp 365 is basically a Transformer. As a trailer, it's sleek, compact, and narrow. It easily fits behind the slipstream of even smaller tow vehicles like a Subaru Outback.
But you can unfold the aluminum-alloy shell panels to create a 700-cubic-foot "cabin" that sleeps six with a full kitchen. It's a really clever design that you can upgrade with large tires to give nearly a foot of clearance.
The HQ15 starts out with a whopping 18 inches of ground clearance, so it should be able to go anywhere your full-size truck will make it. And at 4,722 pounds, you'll definitely want a full-size truck.
But once you're at the end of the trail, this rugged trailer gives comfortable accommodations. The two 150W solar panels power a 30-amp electrical system. It carries 66 gallons of general water, 16 gallons of drinking water, and a propane heater.
Depending on the weather, choose between inside and outside kitchens.
Colorado Teardrops builds high-quality teardrop trailers just down the road from our Denver office. We stopped in last year to check out the manufacturing.
The brand explained how it uses a strong, light cabin made with an aluminum frame. It designs these small campers around a queen-size mattress and outdoor galley on a 2,200-pound suspension.
While the teardrop is a smaller platform, it gives you a lot of storage and sleeping space for minimal weight. It's also one of the more affordable options with a rugged suspension and burly tires.
The Braxton Creek Bushwhacker is another rugged little teardrop trailer. With a dry weight of 1,300 pounds and just 13'2″ long, you can pull this with fairly small tow vehicles like Jeeps and small SUVs. It provides an air-conditioned interior space for two adults to sleep as well as an outdoor kitchen.
While one of the smaller trailers in the lineup, it performs big with space to carry gear on a roof rack and a Torsion-Flex 2,200-pound independent-suspension axle with electric brakes and "Maxi-Clearance" design.
The post 13 Rugged Campers to Pull Behind Your F-150 appeared first on GearJunkie.