sale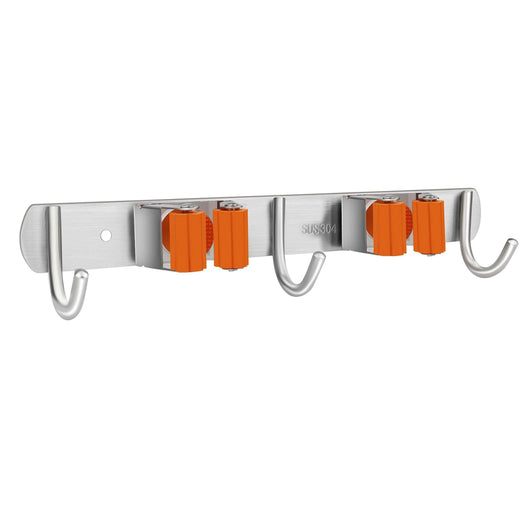 Vodolo Mop Broom Holder Wall Mount Garden Tool Organizer, Stainless Steel Duty Organizer with 2 Racks 3 Hooks for Kitchen Bathroom Closet Garage Office Laundry, Screw or Adhesive Installation, Orange
Regular price $25.99 $15.99 Sale
---
Limited Items Selling Fast
poup with stuff in it
close
---
Brand: Vodolo
Features:
NEW DESIGN - With simple corrugated rubber anti-skid roller teeth and stainless steel triangle fixed clip design, make it easily hold heavy tools with a no-slip grip, and will also withstand extreme temperatures, can be used outdoor and indoor.
STRONG & DURABLE - The wall mounted Mop and Broom Holder is made of premium 304 stainless steel, and triangle-buckle is adjustable size automatically based on different thickness of the handles to prevent object slipping, which can hold up to 35-lbs, better than the plastic ones in market.
SAVING SPACE AND PRACTICAL - These broom organizer with 2 Racks 3 Hooks is not only make the Home & Garden look clean and tidy, but also provide sufficient storage space. Save more space for you in your kitchen, toilet, workshop, boat, motorhome, backyard, room, balcony, basement, garage storage, office, outdoor yard, garden, etc.
EASY INSTALLATION - This broom storage rack equipped with both 3M adhesive tape(positioning before securing) and enough screw set. You can choose one of them according to your installation surface: Self-adhesive for smooth surface, and screws drilling for rough surface.
100% WORRY-FREE GUARANTEE - We take pride in the quality and craftsmanship of our broom hanger. Any questions, please feel free to contact us, we will do our best to solve your problems, your smile is always our pursuit.
Publisher: Vodolo
Details:
Vodolo Wall Mounted Holders, Make Your Life Easier!
Features:
▶We combined a strong Spring-Tension Clip with Rubberized Rollers for the strongest grip.
▶Holders are spaced ergonomically so nothing overlaps. It's a perfect choice for storage solution in your kitchen, bathroom, wardrobe, laundry and other living spaces.
▶Stainless Steel is the best material. You can install Vodolo Broom Mop Holder wherever you want, no matter indoor or outdoor. 
Because it is waterproof and rustproof. 
Versatile Design:
The rack can adjust automatically along with the different thickness of the handles,fit any items you want to hang, and will also withstand extreme temperatures, so can be used outdoor and indoor.
Package Content:
1 x Broom Mop Holder with 2 Racks 3 Hooks

1 x Strong Glue
2 x Powerful self-adhesive Tape 
2 x Screw 
2 x Screw cap 
2 x Plastic expansion Anchor 
UPC: 787414969245
EAN: 787414969245
Package Dimensions: 9.1 x 2.0 x 2.0 inches