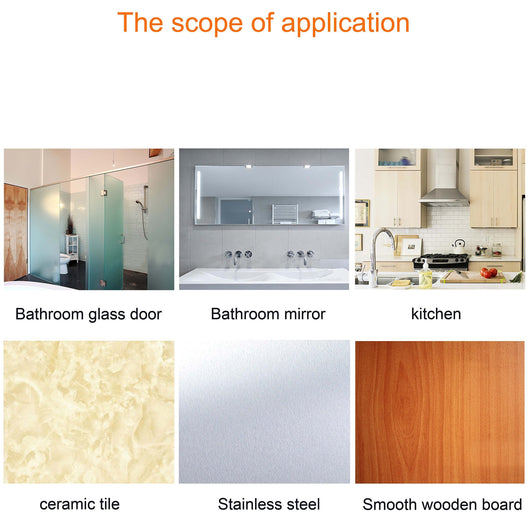 Suction Cup Hook,OKOMATCH Chrome Adhesive Vacuum Wall Mount Stainless Steel Holder Storage Hanger,Heavy Duty,Repeated Use - 2Pcs/Pack
Regular price $0.00 $29.99 Sale
---
Limited Items Selling Fast
poup with stuff in it
close
---
Brand: OKOMATCH
Color: 2pcs/Pack
Features:
[Easy & Effective Installation]Simple mount the hook on the wall or mirror;Install around 10 seconds without any tools.No drills,No nails,No Screws,No holes.
[Heavy Duty & Elegant Appearance ]Consisted with TPU suction;ABS cup and knob ,double stainless steel hook plated with chrome.Long-lasting max weight loading up to 5Kg/11lb.No rust in lifespan;Not only utility in bathroom or kitchen,but also an ideal modern decor.
[Repeated Usage]Easy to remove off without any trace leaving on the wall,simply clean the suction cup by running water and dry it naturally or by hair dryer.Keep it for next use.
[Universal Application & Attention] Can be applied to any smooth,nonporous,clean and dry surface in bathroom,kitchen even living room.Glass,mirror,ceramic tile are preferred for mounting;[warning]Please do not use the product on porous surfaces or over grout lines,such as:wood,porcelain,marble,wallpaper,natural stones,painted wall & any surface that is bumpy,etc.
[100% Money Back Guarantee] This soda can beverage storage rack is with 100% satisfaction guarantee service.If you do not like this product,please do not hesitate to return to receive your full payment back.
Publisher: Shen Zhen Shi Ao Ke Ma Qi You Xian Gong Si
Details:
No drills,No tools,No screws!Super easy to install !
* This adhesive suction cup hook is very usable in kitchen,bathroom or lavatory to hold bath rags,knife and fork,brushes, sponges,loofahs,towel,etc.
Product Feature:
Hook - stainless steel (chrome plated).
Cap and knob ¨C plastic (chrome plated).
Suction - TPU & Silica Gel.
Heave duty loading.
Repeated usage.
No damage of the wall.
Easy to installation and use
Instructions
1.Clean and dry the position when install or re-install,ensure the surface is dry,clean,smooth,non porous.such as ceramic tile,glass,smooth wood,smooth metal surface,etc.
2.Position:Tear off the protective film,and put the shelf system on the right place on the wall.
3.Press the suction cup devices and push out the air.Then twist the knob clockwise till it is tightened.
Warnings
* Do not use it over grout lines /edges or on porous,uneven painted,textured or matte surfaces.Marble,porcelain,mosaic and nano tiles,natural stones,plaster and wood plank,wallpaper are porous and cannot maintain suction.
* Do not overload,11lbs in max for normal usage.
* Do not twist the knob continuously after it has fully tightened.
* Make sure the suction cup system is fixed well before to store the things,especially for hanging the glass or fragile items.
Friendly Notice:
Glass,mirror,ceramic tile,granite,stainless steel,acrylic,plastic,laminate and any non-porous smooth surfaces are preferred for this suction cup hook,please do not use it on not-allowed wall surfaces.
Package Including:
2 Set * Suction Cup Hook
1 * Installation Manual
UPC: 611968454820
EAN: 611968454820
Package Dimensions: 5.7 x 3.9 x 2.5 inches