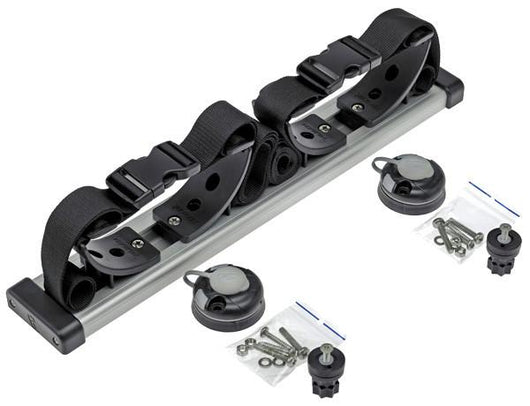 RAILBLAZA DIVE BOTTLE HOLDER KIT 2 BLACK
Regular price $149.50 Sale
---
Limited Items Selling Fast
poup with stuff in it
close
---
Store bottles and fuel cans safely, then unclip the whole storage rack and stow it when it's not needed.
The TracPort Dive and Gas Bottle Kit is a fully adjustable system allowing you to safely retain different sized Dive bottles, Gas bottles, Fuel and water cans and even rubbish bins. Adjustable straps with quick release buckles allow for easy operation and full versatility.
This system can be made removable using our StarPort system, or can be permanently mounted to remain fixed in place.
The position of the brackets is fully adjustable to suit the size of bottle or container you are wanting it to hold at the time. This means the same rack will hold different bottles on different days. There are many uses for this product, hold two bottles, or one bottle and other RAILBLAZA accessories.
The TracPort system can be expanded by joining two kits together, or buying extra lengths of track and adding StarPorts and accessories.
Designed and made in New Zealand from materials suitable to the harsh marine environment, this fully adjustable bottle holder will help you tidy up your cockpit, keep your scuba gear safely out of the way, and is installed in minutes. It features a plastic buckle for quick and easy operation, and a fully adjustable strap for different bottle diameters, also supplied with all the necessary stainless steel fasteners.
What You Get:
•2 x StarPorts and fastener kits
•2 x Male Adaptors
•2 x Pairs of bracket moldings
•2 x Strap kits
•500mm TracPort extrusion with end caps and 4 x track nuts.
Construction Materials
Brackets and adaptors – UV proof Fibreglass reinforced nylon
TracPort Extrusion – Anodised aluminium
TracPort plastic fittings – uv PROOF Fibreglass reinforced nylon plastic
StarPort – AES (uv PROOF Acrylonitrile Ethylene Styrene)
Locking Slide – Polycarbonate
Straps – polypropylene webbing
Fasteners – stainless steel