sale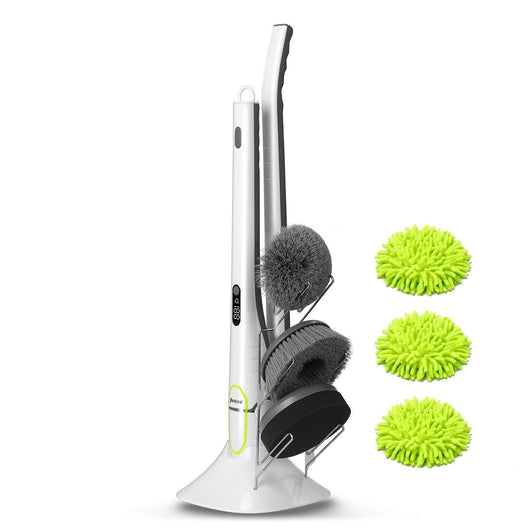 Phaewo Spin Scrubber with LED Display, Long Extension Handle Shower Cleaner, Including 2 Power Scrubber Brushes, 3 Mops, One Sponge and a Storage Rack, New Generation of Cleaning Supplies, White
Regular price $99.99 $74.99 Sale
---
Limited Items Selling Fast
poup with stuff in it
close
---
Brand: Phaewo
Color: White
Features:
♚ POWERFUL CLEANING: The tile cleaner has a 84W motor and two 7.4V rechargeable batteries. Recharging time is about 2.5 hours for a 90-minute cleaning! You only need one device to audaciously clean everything with just the spin of a brush!
♚ EASY STORAGE: Our grout cleaner comes with a FREE rack. Don't waste your time on drilling a hole in your wall or in finding a space to store your grout brush and accessories! After cleaning, just hang your wet scrub brush to dry on the rack.
♚ UNIQUE ACCESSORIES: Our bathroom scrubber comes with a 24 inch extension handle. Your package also includes 2 different brushes, 3 mops and 1 sponge. Our Phaewo floor scrubber is unique in having so many FREE EXTRAs in your package. No surface is too hard to reach with our shower scrubber.
♚ ALL-AROUND CLEANER: You can use this versatile spin brush for bathroom, different floors, car, walls, windows, glass surfaces, patio furniture, tile grout, shower, toilet, bath tub and kitchen.
♚ WE PROVIDE: Our easy-to-use bathroom scrubber comes with an online video manual and a written manual. If for some reason you don't feel satisfied, we give you a full refund within 30 days after purchase. We offer 2-year warranty and extensive after-sales support.
Publisher: Phaewo Manufacturer
Details: ☘ cleaning changes forever do you also hate cleaning your car, bathroom, kitchen, patio furniture and other places? Bending, squatting and scrubbing until all your joints and muscles Ache with the smell of chemicals in your nose... with the Phaewo Spin Scrubber you can clean almost everything in your house with just a spin! Don't hesitate any longer! Get yours now and experience It for yourself. ☘ package includes: 1x bathroom cleaner> 2x brush 3x mop 1x sponge 1x charger 1x rack 1x written manual
EAN: 6971480781007
Package Dimensions: 27.0 x 8.4 x 4.1 inches