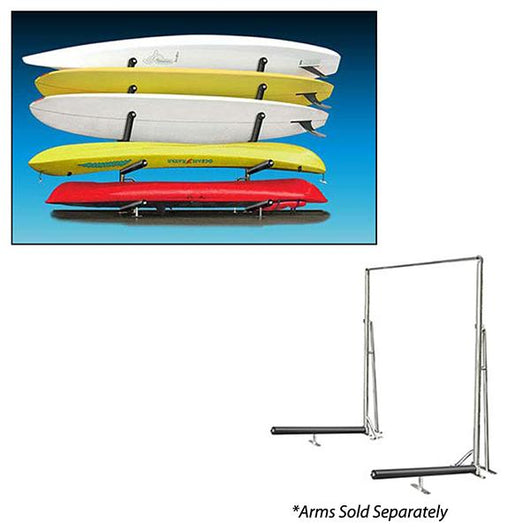 Magma Storage Rack Frame For Kayak And SUP
Regular price $329.90 Sale
---
Limited Items Selling Fast
poup with stuff in it
close
---
Storage Rack Frame for Kayak & SUP
Starting with the base rack assembly build a Kayak/SUP storage rack to fit your specific needs.
No more lugging around your heavy kayak or paddleboard after a long day on the water. With Magma's Kayak/SUP Dock Storage Rack System your problems are solved.
Building this rack system is simple, start with the base rack, R10-1001, and purchase the specific arms separately that best fit your needs. Storage rack arms (sold separately) are available in either straight 36", R10-1010-36, for Kayaks, or angled, R10-1020, for SUPs/Boards, or a combination of both whichever best suits your needs. When fully assembled this rack holds up to 4 Kayaks and 5 or more SUPs or any combination.
This finely crafted rack has been designed for mounting directly to a dock or floor and is constructed from 1-1/2" diameter 304 Marine Grade Mirror Polished Stainless Steel tubing with 356 Anodized Aluminum connection joints. The vertical uprights have (30) adjustment holes spaced 2" apart for proper spacing between boats/boards to fit any size water toys in the rack. Base rack and all arms come with pre-installed UV resistant polyethylene foam padding. Each arm has a tie-down point allowing use of securing straps when equipment is stored or simply use a cable lock to safely secure items to the rack.
Whether you're new to water sports or a seasoned veteran this rack is a must have for every paddling enthusiast.
Features:
Can Be Mounted on Your Dock or Any Flat Surface
Extremely Strong Adjustable Arms for Any Size Kayak, SUP, or Water Toy
Base Rack is 1-1/2" diameter 304 Mirror Polished Stainless Steel, Steel Tubing and Hard Anodized Aluminum Elbows
Straight Arms and SUP Arms (sold in pairs) are purchased separately to customize the rack to your requirements
Stainless Steel Tie-Down Points to Secure All Water Toys
Base Rack and All Arms Include UV Resistant Polyethylene Foam Pads
100% 304 Marine Grade Mirror Polished Stainless Steel
Absolutely the best way to store your water toys