sale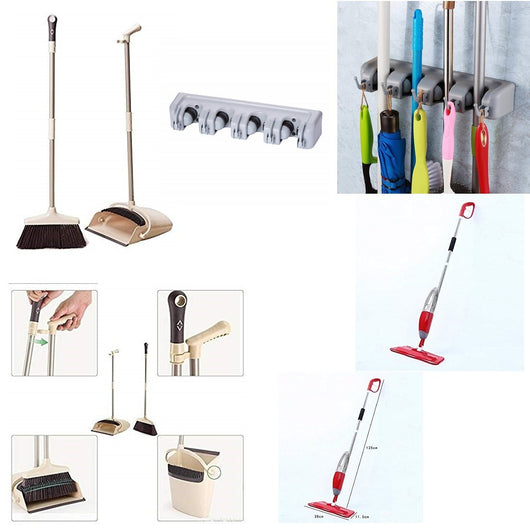 Cleaning Combo- Spray Mop, Broom DustPan Set, 4 Slot Wall Mount Holder With Hooks
Regular price $24.99 $14.99 Sale
---
Limited Items Selling Fast
poup with stuff in it
close
---
The dustpan has a rubber lip that fits perfectly on the ground and can easily capture tiny dust and little paper into the dustpan

The height of the broom and dustpan allows you to stands upright for comfortable sweeping

Cleaning with mop can often feel like you're just pushing the dirt around instead of wiping it away. Spray mop is quicker, more effective and easier than ever to remove heavy duty dirt, grease and grime from your floors, with this microfiber spray mop.

The large swivel head can reach into those awkward hard to reach corners easily for a more convenient clean

With high-capacity and multi-function , 4 position with 5 retractable hooks can be used synchronously and save space greatly so that make your home looks in neat. You can hang the tools at any heights to prevent congestion or overcrowding and still the tools will not slide down. It provides enough extra strength and durability to hold your items.
Product Description 
Broom and Dustpan Set Treelen Broom with Dust Pan with Long Handle Dustpan locks: Dustpan has locks in open position for easy emptying and folding and Dustpan is pivoted. Save Space: Broom snaps to Dustpan for upright storage and can be disassemble to occupy minimum space as possible when moving.
Product Discription 
Mop and Broom Holder Wall Mounted 4 Position Storage Rack with 5 Retractable Hooks Holds up to 9 Tools Utility Size: 4 position 5 hooks | Colour: Gray Brand: BLUE PIGEON Material: Plastic Finish:Gray Item Weight: 316G/0.7LBS Product Dimensions: 33x7x6.5cm/12.99x2.76x2.56in Depth of the Hole:3cm/1.18in Distance between the two Hooks:7cm/2.76in Include Accessories:4 screws and 4 plastic screw sleeves Product Discription of Water Spray mop Floor Stainless Steel Pole 1pcs Refill Microfiber mop Household Microfiber Spray Mop is the Single solution for all the floors in your home Save more and waste less with the Microfiber Spray Mop System. The thick microfiber pad is washable and reusable so that you never have to run to the store for refills when you're getting ready to clean. Simply fill the bottle with hot water and two teaspoons of your favorite cleaning solution and you're ready to mop. The Microfiber Spray Mop is made of lightweight material and the mop head swivels, making it easy to guide around the floor. The mop also features a non-scratch scrubbing pad built into the mop head to loosen stubborn spots. Microfiber Spray Mop is Safe to use on all floor.