sale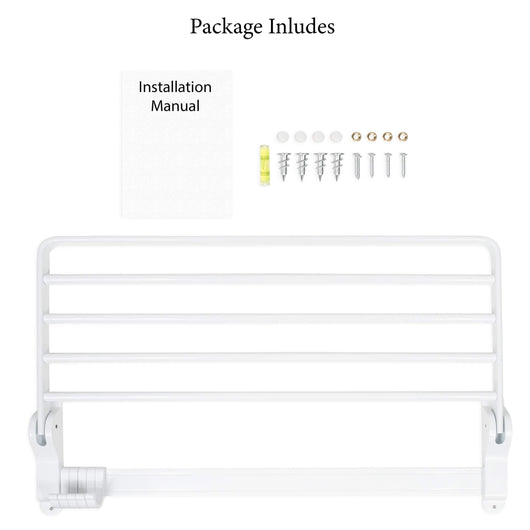 brightmaison Clothes Drying Rack Wall Mounted Folding Adjustable Collapsible (White)
Regular price $63.44 $44.99 Sale
---
Limited Items Selling Fast
poup with stuff in it
close
---
Brand: brightmaison
Color: White
Features:
Sturdy Construction: Built with good craftsmanship the aluminum drying rack comes with quality assurance to keep you satisfied for years to come, 100% satisfaction guaranteed all day, every day.
Easy Assembly: Putting anything together has never been easier, the drying rack comes fully assembled and ready to use, install it with the mounting hardware already included in the packaging.
Space Saver: Perfect for small spaces the compact design easily folds up when not in use, the hooks give you more space for drying smaller things like baby clothing and undergarments.
Fits the Bill: Want an affordable solution to solving your clothes drying problem? The wall mount drying rack will help you save up on floor space and money when compared to the bulky and expensive ones sold at department stores.
Simplistic: You can mount the clothes drying rack in your closet to easily open and put your shirt, skirt, short, underwear, bra, hat, socks, and many more to dry without having to create a mess in the middle of the room.
Publisher: Brightmaison
Details:

Doing Laundry will be Easy with a Compact Drying Rack to Solve Your Wet Clothing Problems...

Perfect for the Bathroom: You can use the rack in your bathroom as a towel drying rack,
keep it folded and hang your clean towels on the hooks for easy access and when you're done using it,
you can put it down to hang your towels to leave it for drying.

Multi-Purpose Storage Rack: There are endless possibilities when it comes to making use of this compact drying rack,
you can use it in your garage for hanging supplies and storing boxes on top,
or use it for your athletic equipment and gear, store your basketballs on top
while hanging your tennis racket, sneakers, hat, visor, etc. on the hooks.

Makes the Perfect Gift: Need a functional and quality gift for an affordable cost?
This wall mountable drying rack makes a great gift for any occasion or holiday,
get it for a housewarming, Christmas or just because and make someone special happy.

The Compact Drying Rack Will Give You the Opportunity To:
Dry your clothes in small spaces without hassle and frustration, the compact design fits anywhere,
use it in your closet, garage or hallway without worrying that you don't have enough floor space.

Specifications:
Color: White
Material: Aluminum
Drying Rack Dimensions: 22 ¾" x 13 ½" x 11"

See What Will Arrive with Your Order Today:
1 22" Aluminum Clothes Drying Rack with 5 3" S-Hooks and Mounting Hardware
UPC: 638623984997
EAN: 638623984997
Package Dimensions: 25.0 x 14.5 x 2.3 inches