sale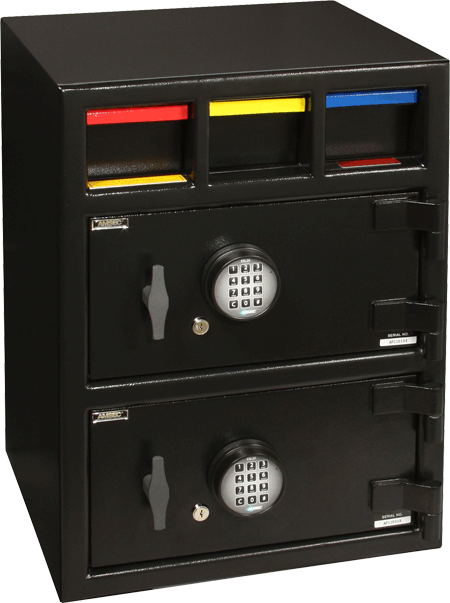 AMSEC MM2820EE 3 Drop Double Door Deposit Safe
Regular price $1,286.25 $965.00 Sale
---
Limited Items Selling Fast
poup with stuff in it
close
---
AMSEC MM2820EE 3 Drop Double Door Money Manager Deposit Safe
The AMSEC Model MM2820EE 3-drop B-rated burglary double-door deposit safe is an ideal option for businesses with three work shifts or 24-hour operation schedules.
Its three separate front-load compartments drop into individual bins, making it easy to manage deposits by shifts.
Solid Security Features
The AMSEC MM2820EE is one of the best drop safes on the market. It features digital electronic locks (ESL15) on both doors. Optional dual key locks can be ordered for dual control.
The safe's doors are made from 1/2"-thick steel and lock into a reinforced door jamb with three big 1" steel bolts. Four pre-drilled anchor holes make it easy to bolt the safe to the floor so that it's very difficult to move, and its 28"-inch height allows it to tuck away discreetly beneath most counters.
Versatile Interior Space
Each of the lower doors of the AMSEC MM2820EE allows access to its interior via a door opening that is 8-1/2" high and 16" wide, giving you room to store large objects such as cash drawers.
Each of three drop slots is colored coded, and the drops go into matching colored bins, so it's easy to keep track of deposits from different drops.
There's also a coin storage rack on the inside of the lower door, allowing you to easily organize coin drops.
Adaptable to Your Needs
The AMSEC MM2820EE comes standard with a black paint finish. This model is closely related to other drop safe models with either a single center or top drop.
If you're not sure whether the 3-drop model is for you or if one of the single-drop models would be better, we can help.
Contact our safe professionals either or at 1-800-207-2259 today to discuss which of these secure, functional drop safes is best for your business. 
STANDARD FEATURES:
Heavy duty construction with solid steel doors.
Both doors equipped with AMSEC's ESL15 electronic lock.
Optional key locks available offering dual control.
Handle activated locking mechanism consisting of three 1" diameter locking bolts.
Bolt detent device automatically engages bolts when doors are closed.
Auxiliary spring-loaded relocking device, activated by a punch attack.
Locks and relocks are protected by a large carburized hard plate.
Formed door jamb and full length dead bar.
Coin racks are standard on inside of storage door.
Fish resistant depository drops accept bulk items, drop envelopes or bags.
Cash drawers and bulky items conveniently fit into both compartments.
Four anchor bolts and anchor hardware included.
MM2820 front load and center drop hopper measures 16"W x 2"H x 3"D.
Three individual color-coded 4" drops for shift control. Three deposit bins provided on "three drop" model.
Attractive Black textured finish.
Lock Features:
Replaces most mechanical combination locks. Easy installation and operation.
Durable black rubberized finish ABS housing with an alphanumeric keypad.
Factory Reset Combination for resolving lost combinations without requiring expensive service calls.
Electronics are encapsulated within the lock and are sealed to prevent possible moisture-related failures.
Cable fits through a spindle hole without cutting and re-crimping connector.
Beep and flash from every keystroke gives maximum feedback to the user.
15-Minute Penalty Lockout after four incorrect entries protects against manipulation attempts.
New swing bolt reversible lock design for right- or left-handed installation.

Lock "auto-locks" when bolt work is thrown to prevent safes from being left in a day-lock position.

Time Delay Mode allows delay to be set from 1 to 99 minutes.
Armored Car Override allows an armored car service to bypass Time Delay.
Multiple User Mode allows for one master code and eight user codes to be used for
full supervisory control and code management.
Dual Control Mode programs the lock to require two combinations to open.
Two 9-volt batteries can be easily replaced in the keypad housing.
Pending U.L. Type 1 listing.