sale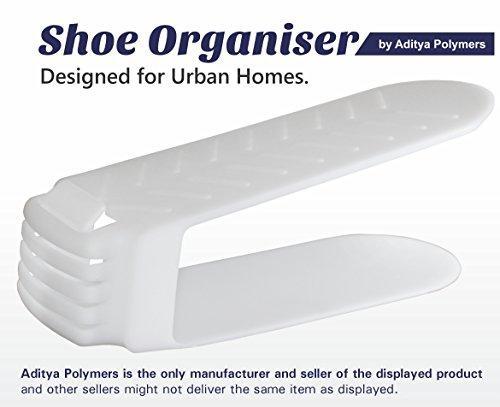 Aditya Polymers 8 Piece Plastic Shoe Organizer, White
Regular price $1,249.00 $799.00 Sale
---
Limited Items Selling Fast
poup with stuff in it
close
---
Brand: Aditya polymers
Color: White
Features:
Package Contents: 8 Shoe Organizer
Size: 27 cm x 10 cm x 10 cm
Minimum shoe rack height required to keep the footwear is 18 cms or 7 inches, please check before ordering
Innovative design organizes and doubles your storage space in your existing shoe cabinets/ racks without shoes rubbing against each other
Acts as a shoe guard and keeps your shoes hygienically clean and well aired
Convenient to use and gives decent look to your shoe rack and easy access to your shoe collection
Manufactured from high grade virgin plastic so light weight, washable and durable
This product is non returnable unless manufacturing defect
Please check size of our shoe organizer 27 x 10 x 10 cms (h x l xw) before ordering
Publisher: Aditya Polymers
Details: Shoe organizer - perfect for shoe lovers and a must for every home. Today with our modern homes getting smaller, intelligent storage space is a must. Our shoe organizer is perfect storage solution for this to give you a neat, compact, clutter free look to your shoe rack yet adding to your decor style. Organize your storage space and shoe keeping with this product and double your storage space. It has plenty of room for any kind of footwear, be it sneakers, stilettos, sandals or flip flops. It can be used in most of the shoe storage rack and can also be used in your shoe travel bag to protect your expensive shoes from loosing its shape. Easy to use and provides easy view and access to your shoe collection. Made from high quality virgin plastic which will last for years to come. Available in white natural color which provides a decent clean look for your shoe cabinets and your shoes. Size of shoe organizer - 27 x 10 x 10 cm (l x w x h).
EAN: 8944128655846
Package Dimensions: 13.2 x 8.1 x 4.5 inches