sale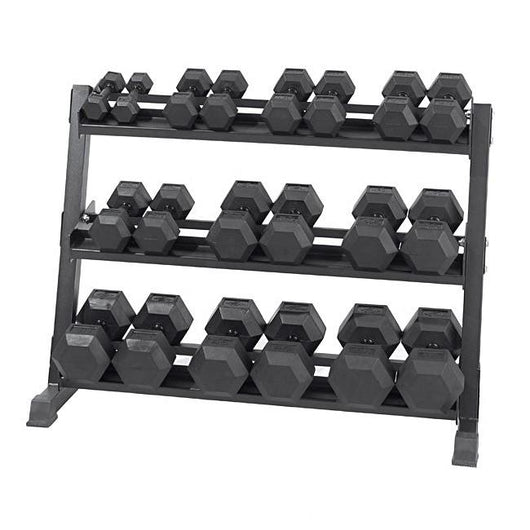 Element Fitness 5-50lb Virgin Rubber Hex Dumbbell Set w/ Stand
Regular price $1,249.00 $999.20 Sale
---
Limited Items Selling Fast
poup with stuff in it
close
---
Element Fitness 5-50lb Virgin Rubber Hex Dumbbell Set with Stand
Set includes:
Element Fitness 5-50 lb set of SDVR Virgin Rubber Hex Dumbbells:
One PAIR of each size in 5lb increments = 20 dumbbells total

2 x 5lbs, 2 x 10lbs, 2 x 15lbs, 2 x 20lbs, 2 x 25lbs, 2 x 30lbs, 2 x 35lbs, 2 x 40lbs, 2 x 45lbs and 2 x 50lbs

Virgin Rubber = No Odour

Premium Black Ergo Handles
Xtreme Monkey 3-Tier Horizontal Dumbbell Rack
Keep your workout area organized, clean and safe with the Xtreme Monkey 3-Tier Dumbbell Storage Rack.
This 3-tier rack holds one (1) pair each of 5-50 lb. hex dumbbells! With the 42.5" extra wide rack space you will have plenty of room on each tier.
This powerful, yet compact unit, features heavy gauge steel with all-4-side welded construction and is deburred inside and out.
Place the rack against a wall or center it in a room to maximize your workout space!