sale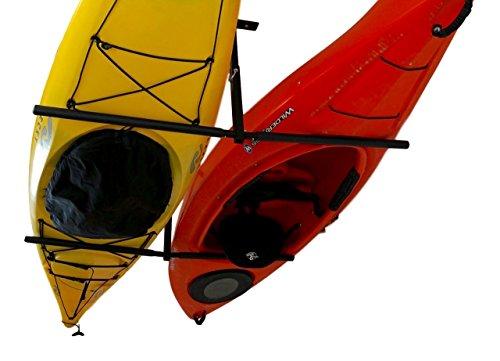 2 Kayak Adjustable Ceiling Storage Rack | Hi-Port 2 Mount | Storeyourboard
Regular price $181.41 $90.07 Sale
---
Limited Items Selling Fast
poup with stuff in it
close
---
DOUBLE YOUR CEILING STORAGE: 2 sided rack gives you twice the storage capacity

HEAVY DUTY STEEL: built to hold up to 100lbs total and 2 kayaks

ADJUSTABLE HEIGHT: adjust the center column from 10 to 18 tall to provide you exactly the storage thickness that fits your space and storage needs; remove the arms with the push of a button

WHAT KAYAKS WILL IT FIT? up to 18 thick storage and 25 wide arms will fit a variety of kayaks, from whitewater, recreational, ocean, fishing, and more

QUICK, EASY INSTALL: rotates to mount along joists in either direction, quick and easy install with all included hardware and instructions
StoreYourBoard, the leaders in sports storage, bring you its new, patent-pending, heavy-duty double ceiling kayak storage rack!

Durable, Steel Construction. This Kayak Ceiling Rack is an incredibly sturdy way to store your kayaks in your overhead space, organizing and saving you room. This rack is made from heavy duty steel and supports up to 100 pounds! It's more than sturdy enough to mount kayaks, paddleboards, and surfboards to your ceiling at home, in your garage, under your deck, or in your shop.

Kayak Protection. The Kayak Ceiling Rack's arms come covered in high-density, foam padding. This isn't the cheap pipe insulation kind, it's thick, top-quality foam to protect your boat for years to come. Want to remove the rack's arms? No problem, they remove with a simple push-button.

Easy Installation One huge innovation in this rack is that it can be installed along ceiling joists that run in either direction - the center column rotates to fit your setup. This rack is also super easy to install, coming with the necessary mounting hardware - heavy duty lag bolts - so you can set it up quickly and easily!

Fit: What Kayaks Will it Hold?

-Weight: holds a combination of kayaks up to 100 lbs total, whether that is 1 or 2.

-Width: 25 wide arms can hold kayaks up to 35 wide, whether recreational, whitewater, some fishing, and more, along with most all SUPs or Surfboards!

-Length: the 2 rack sides are independent so can be mounted at whatever distance apart you need, to fit the length of kayaks you have.

Thanks from the StoreYourBoard team!