sale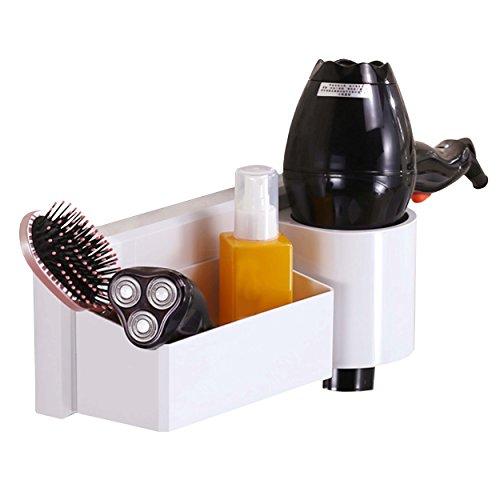 OKOMATCH Wall Mounted Hair Dryer Holder Multi-purpose Adhesive Suction Cup Plastic Storage Rack / Blowing Dryer Organizer For Bathroom/Shower Room - No Drill / Nail(1pcs/pack)
Regular price $57.86 $33.66 Sale
---
Limited Items Selling Fast
poup with stuff in it
close
---
Brand: OKOMATCH
Color: #2(holder)
Features:
Super Suction & Heavy Loading - Adopt latest generation no-trace adhesive vacuum suction cup with large diameter upto 2.5 inches.Draining air out,provide powerful and super strong adsorption.Two suction cup devices are equipped on the shelf and the whole system can load weight up to 22 lb.
No Drills,No Tools,No Screws & Repeated Use! - You won¡¯t be headache again when you need tools or helps to install the shelves.This suction cup shelf system is very easy to install without any tools and even your kids can assemble and install it very perfectly.You can now place the shelf to anywhere you want and it is convenient to remove and relocate;Most importantly,this shelf installation has no damage to your wall.
Premium Material & Multi-purpose - Adopt ABS plastic material,light weight but sturdy,no rust pollution any more.The appro dimension is:12"x4.5"x4.3" (L*W*H).It is consisted with a small box and hair dryer holder,can holds necessities in your bathroom,such as:small sized shower gel,detergent,shampoo,toothbrush,toothpaste and hair dryer etc.Especially,we provide a clip and wire band to hold the hair dryer plug electronic wire,draining hole at the bottom of the box to prevent water retention.
Wide Scope of Application - Suitable for the dry,clean,smooth,flat and non porous surface,such as ceramic tile,glass,stainless steel,etc.When meeting the porous or not smooth,such as rough wood,textured tile,use 3M auxiliary stickers firstly,then put the suction cup on.It will strength the adsorption and make the system load heavier and longer.(The installation tips along with product is very important,read it before installation,inappropriate installation may lead failure to use this product.)
100% Satisfaction Guarantee - We are in confident that you will be impressed by this product when you see it.If you are not satisfied with this product,please do not hesitate to return it and contact us,we will reply within 24 hours and full refund will be guaranteed.
Publisher: Shen Zhen Shi Ao Ke Ma Qi You Xian Gong Si
Details:
No drills,No tools,No screws!Super easy to install !
Product Feature:
* This adhesive suction cup storage rack -hair dryer holder is very usable in bathroom or lavatory to hold small sized shower gel,detergent,shampoo,toothbrush,toothpaste and hair dryer etc.
Instructions
1.Clean and dry the position when install or re-install,ensure the surface is dry,clean,smooth,non porous.such as ceramic tile,glass,smooth wood,smooth metal surface,etc.
2.Assemble the shelf system:Put the two suction cup device on the shelf.
3.Position:Tear off the protective film,and put the shelf system on the right place on the wall.
4.Disassembled the shelf from the two suction cup devices.Press the suction cup devices and push out the air.Then twist the knob clockwise till hearing the voice of ¡°ka¡±.Then it fix well.
5.Put the parts onto the suction cup devices again.
Warnings
* Do not use it over grout lines /edges or on porous,uneven painted,textured or matte surfaces.Marble,porcelain,mosaic and nano tiles,natural stones,plaster and wood plank,wallpaper are porous and cannot maintain suction.
* Do not overload,22lbs in max for normal usage.
* Do not twist the knob continuously after it has fully tightened.
* Make sure the suction cup system is fixed well before to store the things,especially the glass or fragile items.
Friendly Notice:
This suction cup system perform best on glass,mirror,ceramic tile,granite,stainless steel,acrylic,plastic,laminate and any non-porous smooth surfaces.
Package Including:
1*Shelf Holder
1*Hair Dryer Holder
1*Storage Box
2*Suction Cup Device
2*3M Auxiliary Sticker
1*Installation Instruction
UPC: 611968454660
EAN: 0611968454660