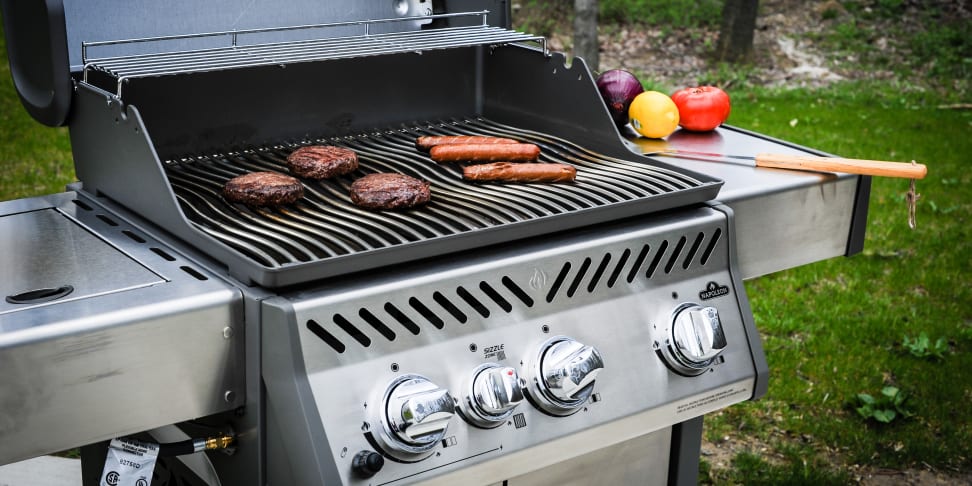 — Recommendations are independently chosen by Reviewed's editors. Purchases you make through our links may earn us a commission.
Gas grills may lack the romance of grilling with charcoal—you won't get the extra boost of flavor from smoky briquettes, and it's impossible to get the grill to heat up to the same temperature. But gas offers instant, even heat that puts charcoal to shame, helping you grill burgers or the perfect chicken breast. They also boast precise temperature control, which makes it easy to cook delicate foods that might be burned while cooking over coals that can get as hot as 700°F.
While choosing gas is a relatively simple decision, picking the best gas grill to purchase is considerably more difficult. From big brands like Weber grills (including our top pick, Weber Spirit II E-310 (available at Amazon) to the generic grills that crop up at your local grocery store every spring, there are hundreds of options to choose from.
We put popular gas grills through a battery of tests from ease of assembly to preheat speeds, and evaluating its grill surface. After cooking dozens of burgers, chicken drumsticks, and asparagus on each grill, we can say with certainty that the most expensive model is not necessarily the best, but the cheapest options might not be built to satisfy, either.
These are the best gas grills we tested ranked, in order.
Weber Spirit II E-310 Gas Grill
Weber Genesis II E-310 Gas Grill
3 Embers 4-Burner Gas Grill
Dyna-Glo 4-Burner Open Cart LP Gas Grill
Char-Broil Performance 5-Burner Gas Grill
Cuisinart 3-in-1 Five Burner Gas Grill
Nexgrill 5-Burner Propane Gas Grill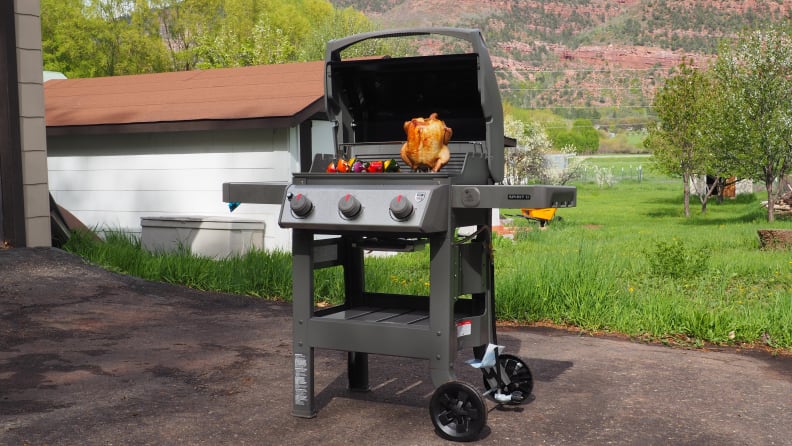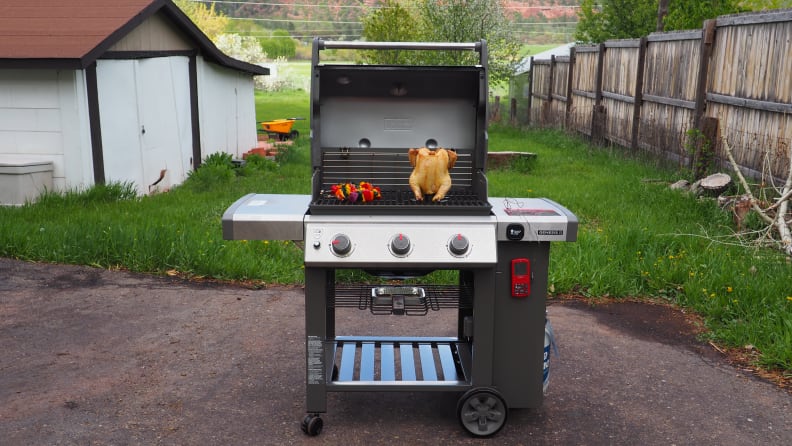 How We Tested
The Tester
Hi, I'm Lindsay Mattison, a trained professional chef and outdoor enthusiast. During the summertime, you'll find me outside grilling burgers on the patio, slow cooking a pork shoulder on the smoker, or building a yakitori grill on my fire pit. If I can cook it outside, I will!
One thing I've learned over the years is the importance of having a reliable grill; it's absolutely key to building confidence in your grilling game. I'd love to help you find the right one for you!
The Tests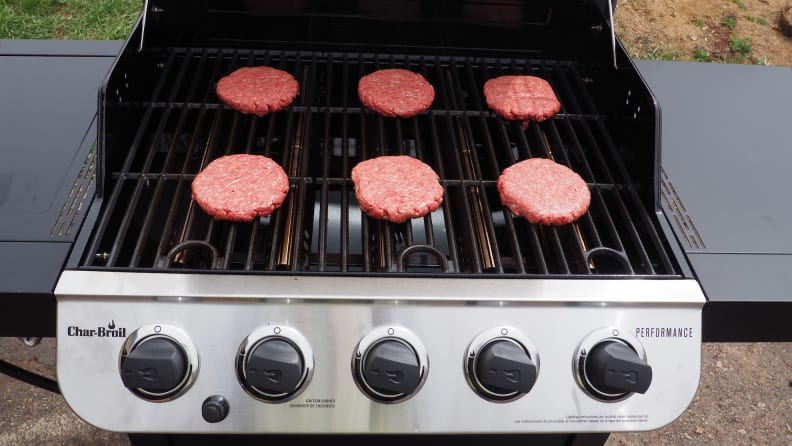 Using my training and years of grilling experience as a starting point, I spent hours researching the latest, greatest and most popular gas grills available online and in stores. Using price, quality and brand reputation to narrow the field, I chose seven highly-rated gas grills from available via popular shopping outlets like Amazon, Home Depot and Lowes to call in for testing. After receiving our test candidates, we set about building each one (a two-person job, for sure, given the weight of each grill).
After assembling each grill, my goal was to find out if factors, such as the number of burners, BTUs, and evaluating the square inches of cooking space for its grate material to see how that affected the grill's overall performance. To do this, I started off by testing how well each grill performed on three different heat levels: high heat (all the burners on the hottest setting), low heat (all the burners on the lowest setting), and indirect heat (one or two burners turned on high).
For our high-temperature cooking test, I timed how long it took for the grill to hit 600° F, an ideal temperature for high-heat searing for steaks, vegetables, and burgers. Once the grill was smoking hot, we placed slices of white bread over the entire surface to map out the heating pattern. Grills with even heating really shined here, creating predictable patterns without noticeable hot or cold spots. Next, I grilled burgers, spaced 2-inches apart, cooking them for 5 minutes a side. After the timer expired, I measured the internal temperature of each burger in hope that they were all within 5 to 10 degrees of each other. Finally, to round out the high-heat tests, we tossed thin-stemmed asparagus onto the cooking grates to see if they fell through.
For the low-temperature tests, I was hoping to see a temperature around 375°F when all the burners were turned to their lowest position. This is an ideal temperature for slow cooking foods or grilling delicate items that can't withstand a grill's high heat. Chicken drumsticks were the perfect option for this test, and the best grills cooked them in about 30 minutes, creating an even, golden brown skin.
The last test was indirect heat: a cooking method which only uses a few of the burners to create an oven-like environment inside of the grill. It's the best way to cook food that takes longer than 30 minutes to finish or that would otherwise burn when exposed to high heat—like a whole chicken, a rack of ribs, or a pork shoulder. I measured each grill's internal temperature after 15 minutes of preheating and cooked a whole chicken on the top-performing grills.
I finished our assessment by looking at each grill's aesthetic features and build quality. Do the grills rattle and shake when you roll them around? Are the side tables and side shelves sturdy enough to hold heavy food items? Are there hooks to hang your grilling tools on? Is there a place to store the propane tank, and is it within reach of the hookup hose? Do the grill's handles get too hot to touch? Is its grease tray catch pan easy to access? After compiling the scores, some of these design choices made a huge difference in the grill's overall ranking.
What You Should Know About Gas Grills
Every gas grill has a rating known as BTUs—British Thermal Units—a measure of the amount of heat the grill can produce. More and more, grill manufacturers are pumping out grills with higher and higher BTU counts, and consumers rely on these numbers as a measure of the grill's performance. So, what's the deal: do the BTUs actually matter?
I'm going to go ahead and say no: our top two grill picks had fewer BTUs per square foot of cooking space than the competition, produced evenly-cooked food and offered a more enjoyable cooking experience. In fact, one of our least favorite grills had the highest BTUs in the group!
BTUs don't necessarily give you a good measure of how the grill's design will affect the cooked food. It's also important to keep in mind that higher BTU grills burn through propane faster, and if the lid doesn't fit tightly onto the grill, all that heat won't remain inside anyway.
At the end of the day, BTUs are simply an indication of how much heat your grill can produce, not how hot it will actually get inside your grill. So, look at the number if you like, but don't put too much stock into it.
Gas or Charcoal—How Do You Choose?
In the eternal debate over whether a gas grill or a charcoal grill is better for outdoor cooking, there is no wrong answer. If you're cooking your food on the grill instead of inside the house, it will capture that beautiful charred essence and smoky flavor from cooking over open flames. You likely already have strong opinions on the topic of gas versus charcoal and we're not here to change your mind. If you're still on the fence on the subject, however, here are the pros and cons of using each type of grill to help you choose the right one for you. Let's talk gas grills, first.
Gas grills are more convenient than charcoal grills. That they don't use charcoal as fuel not only makes a gas grill easier to clean (no ash!), but it also cuts down its initial heating time. That gas grills come equipped with electric starters or a spark wheel to ignite its gas burner helps to get you cooking faster than charcoal users can manage, as well. It's easy to easier to control the heat while you're grilling with gas than it is when using charcoal; to adjust the heat up and down, simply twist a knob instead of fiddling around with hot coals. It is a bummer when you run out of propane, though, so we love these newer grills that have a handy meter right on the side of the grill.
Charcoal grills, on the other hand, are significantly less expensive than their gas counterparts. Many people prefer the flavor of cooking over a charcoal grill, as the briquettes they use for fuel infuse smokey elements into the food. The coals created by burning those briquettes can burn hotter than propane or natural gas, which can be a pro or a con: you'll get a serious sear on your food if that's what you're going for, but it's also easy to burn your food over 700° F temperatures.
What About Electric Grills?
While these appliances are called "grills," they heat your food using a coil instead of flames. That makes them closer to an electric griddle than a grill. If you want to grill indoors, we'd suggest you use your oven's broiler, a cast-iron griddle pan or an indoor grill. In order to use an electric grill, you need an accessible power outlet (a feature that not all decks or patios have), or a high-powered extension cord (a hassle to use and a trip-hazard.)
---
Other Gas Grills We Tested
More Articles You Might Enjoy