sale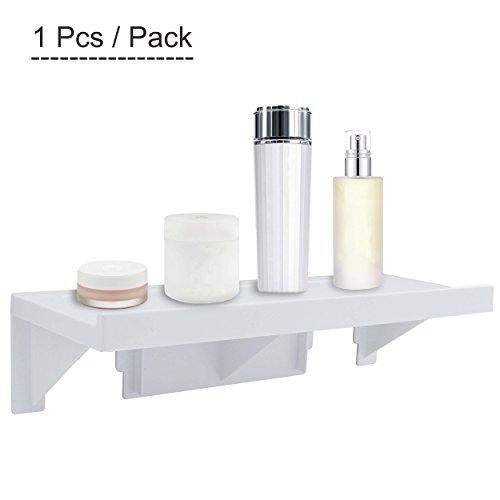 Upgraded Wall Mount Shelf,OKOMATCH No-Trace Stick Plastic Storage Rack For Kitchen/Bathroom,Decor Organizer In Living Room - No Drill & Nail Installation - Reusable(1pcs/Pack)
Regular price $51.34 $29.59 Sale
---
Limited Items Selling Fast
poup with stuff in it
close
---
Brand: OKOMATCH
Color: 1pcs/pack
Features:
No Headache Installation & Heavy Loading - Easy installation can be finished in a few seconds;Adopt no-trace adhesive technology,the whole shelf system can load weight up to 22 lb in long term,no worry of dropping off.
No Drill,Tool and Screw & Repeated Use - Install without any damage to your wall(if you need to load more than 22lb on the shelf,have to install by screws,we reserved the screw hanging hole on the back of the shelf);2-3 times repeated use allowed if it is located askew or in wrong place.
Attention - The product only works for dry,clean,smooth,flat and non porous surface,such as ceramic tile,glass,smooth painted wood,stainless steel,etc.If the surface is wet,porous or not smooth,such as rough wood,textured tile,the product can not stick stably and will run risks of dropping off.(Installation instruction along with product is very important,please read it before installation;Inappropriate installation may lead failure to use this product.)
100% Satisfaction Guarantee - We are in confident that you will be impressed by this product when you see it.If you are not satisfied with this product,please do not hesitate to return it and contact us,we will reply within 24 hours and full refund will be guaranteed.
Elegant Looking & Large Capacity - Adopt ABS plastic material:withe,light weight,sturdy,no rust pollution.Appro dimension of the shelf / tray is:15.5"x6"x4" (L*W*H).Large enough to hold necessities in bathroom,kitchen such as:shower gel,detergent,shampoo,soap,towel,rags,condiment box knife and fork etc.Especially,we designed a groove structure on the shelf to stand your phone or ipad without slip.If you use this shelf in kitchen,now you can watch movies easily when cooking,it would be fantastic.
Publisher: OKOMATCH
Details:
No drills,No tools,No screws!Super easy to install !
Product Feature:
* This adhesive storage shelf is very usable and functional in bathroom or lavatory to hold soap dish,shower gel,shampoo,toiletries,loofahs,towel etc and in kitchen to organize condiment box,rags,knife and fork etc.It is also great idea to put it in living room or office to stand mini flower pot,photo frame,small decoration and little toys.
Instructions
1.Clean and dry the position when install or re-install,ensure the surface is dry,clean,smooth,non porous.such as ceramic tile,glass,smooth painted wood,smooth metal surface,etc.
2.Assembled the shelf system:Put the two adhesive rack on the shelf.
3.Position:Tear off the protective film,and put the shelf system on the right place on the wall.
4.Disassembled the shelf from the two adhesive racks.Press the racks and push out the air,make sure it fix well.
5.Put the shelf onto the adhesive racks again.
Warnings
* Do not use it over grout lines /edges or on porous,uneven painted,textured or matte surfaces.Marble,porcelain,mosaic and nano tiles,natural stones,plaster and wood plank,wallpaper are porous and cannot maintain the shelf system.
* Do not overload,22lbs in max for normal usage,(Have to use screw installation for over loading)
* Make sure the shelf system is fixed well before to store the things,especially the glass or fragile items.
Friendly Notice:
This adhesive shelf system perform best on the surfaces of glass,mirror,ceramic tile,granite,stainless steel.
Package Including:
1*Shelf
1*Adhesive Rack
1*Installation Instruction
UPC: 611968454905
EAN: 0611968454905